---
[Note: this article appears on page 14 of the print edition of vol. 1, no. 3 (September 2003) of this newsletter]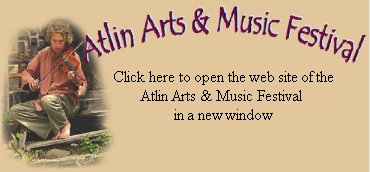 Atlin Arts and Music Festival
Atlin, British Columbia July 11-13, 2003
by Stewart Cruikshank


About 50 km east and south of Whitehorse, there is a gravel road that takes you south off the Alaska Highway for 90 km to the village of Atlin, BC. The town's isolation has saved it from the fate of other communities along the more beaten path. The RV's avoid it for the most part, and it has kept remarkably close to its origins as an early 20th century mining village, complete with plenty of log buildings and a frontier character. Atlin's time as a mining town was short lived, and tourism soon became its principle purpose. The area was billed by one early marketer as the 'Little Switzerland of the North.' It was accessible to early adventurers who were willing to sail to Skagway, Alaska, take the White Pass and Yukon Railway over the Coastal range, and then transfer to a steamer, thus making their way through a series of lakes and mountain valleys to Atlin. The scenery is indeed spectacular, with glaciers hanging from stark mountains. The proximity to Whitehorse made Atlin a good choice when artists were searching for a venue for a summer music and arts event to complement the two existing festivals, both founded in 1979: the Dawson City Music Festival (also held in July), and Whitehorse's Frostbite Music Festival (held in February). My wife and I, with four children ages 11 to 17, all attended the first Atlin festival in July 2003.
For the kids there were clowns and children's entertainers aplenty. Xylomaniacs, a marimba band workshop, was run by an adventuresome group of musicians led by Annie Avery. The kids loved it because they were involved in the music making. They also enjoyed the storytelling in the local town theatre. When not attending festival events, the children had a magical world to explore. A favourite moment for us was when, during a boat trip on Atlin Lake, a black bear slipped into the water and swam near us.
A festival spirit prevailed, with jam sessions at the coffee house both out front and on the patio overlooking the lake. We arrived on the Friday night, and had no trouble finding space to set up our tents. The festival takes place in Tarahne Park, a fair grounds on the fringe of the village. The main tent was ready for a large crowd; next to it was the 'licensed' tent, smaller but busy most of the time. Around the perimeter of the large field, tents and tables displayed the crafts and wares of artists and various cottage industries.
There was a certain informal air to the proceedings at the Atlin festival. Not far from our tent, we heard a guitar warming up with a few licks upon our arrival on Friday. A few minutes later it was joined by a bass, mandolin, clarinet and vocals. The bluegrass band had just pulled in and was going over its tunes for a set later that evening. It had the feel of a jam session more than a rehearsal. People would stop, listen for a few minutes, and then move on. Elsewhere, other musicians were pulling out instruments to practise their chops before going on stage. For us, this was what made it a great festival: outdoor music, unplugged and impromptu was happening all around.
At the Main Stage that night, the crowd whooped it up to folk, rock, country, and more. The clear favourite was the Clay Cliff Ramblers, a bluegrass ensemble that had the crowd up and dancing. We were struck by the unique voice of Nadine Landry, who showed everyone that a pure country singing style still thrives. Friday night was a magical mix of music and venue. The clear sky darkened, but never so much that stars were showing. In this twilight, the Aurora Borealis danced as if to the music. People would leave the tent to go and gaze at the sky, and then return to take in some more music. Yes, there was magic in the air.
There were many other memorable moments. One was hearing Jerry Alfred, a First Nations folk singer and fiddle player who truly played from his heart; another was walking down a side street and hearing Steve Slade and some others jamming on the porch of an old log cabin. Then there was the atmosphere in the little Anglican church on Sunday afternoon, when it was filled with both amateurs and pros for a gospel workshop. A few other random highlights would include Gordie Tentrees, whose soft-spoken manner belied a smart stage presence; Fish Stew with their down-east Celtic sounds; and Nicole Edwards, performing folksy-blues on Friday, and authentic gospel on Sunday. Click here for a list of the performers in the 2003 festival, and plan now to visit Atlin in 2004; you won't be disappointed.
---
Back to table of contents for ICM Newsletter, vol. 1, no. 3 (September 2003)
Back to ICM Newsletter, main index
Back to Institute for Canadian Music home page
---