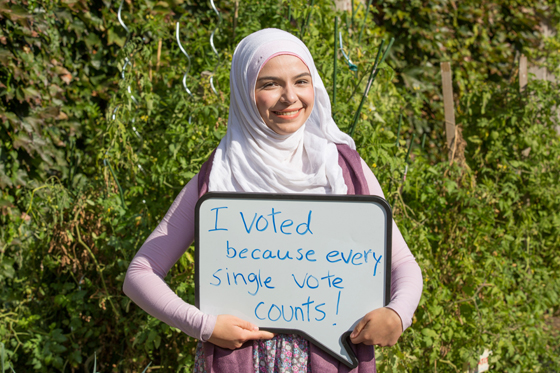 photo BY JOHNNY GUATTO
Election 2015: U of T students vote
"My feelings after voting? Honestly, it felt amazing," said Bushra Nassab, now in her fourth year as an undergraduate. She was one of many U of T students who voted, some for the first time, in the federal election.
In memoriam: Ken Taylor

The University of Toronto is mourning the death of Victoria University Chancellor Emeritus Kenneth Douglas "Ken" Taylor, who died on Oct. 15, 2015.

U of T alum and adjunct prof Anne Michaels named Toronto poet laureate

Anne Michaels, an adjunct professor of English and former Barker Fairley Distinguished Visitor in Canadian Studies at University College, has been named Toronto's next poet laureate.

Early Career Teaching Award spotlight: Q & A with astronomer Mike Reid

Mike Reid serves as coordinator of public outreach and education at the prestigious Dunlap Institute for Astronomy and Astrophysics. He's also a lecturer at U of T and one of four teaching leaders receiving the first-ever University of Toronto Early Career Teaching Awards this year.

Post-apocalyptic life and medieval plays: alumna recognized twice by global Undergraduate Awards

U of T grad Roshaan Wasim was one of eight U of T alumni named to the Highly Commended list at this year's Undergraduate Awards. She was also Highly Commended in two separate categories for literature.

photo by Arthur Kwiatkowsk

Downtown campus to introduce Friday evening and Saturday exams this December

For the first time, some students on U of T's St. George campus will write Dec. exams on Friday evenings and Saturday mornings and afternoons.

// STAY CONNECTED

Follow U of T News on Twitter here.




photos via Instagram, clockwise from top left, from users UofT, sylbanik, UTSU98)

Undergrad video series shares the voices of #UofTVotes

Statistics tend to show dismal voter turnout numbers for youth but students at U of T called for change in the form of social media campaigns.

Election 2015: will the new government pay enough attention to city issues?

U of T News asked Matti Siemiatycki, an associate professor of geography focusing on infrastructure planning, transportation, cycling and public-private partnerships, to weigh in on urban issues and the election campaign.

The Blue Jays and the ballot box

Could there be a link between exercising your democratic rights and cheering on the team? U of T News spoke to U of T's Bruce Kidd and David Roberts to find out.

Toronto Blue Jays' psychologist on the importance of channeling emotions, maintaining perspective

Fans who witnessed the team's rocky start in its game last week and smashing comeback after a seventh-inning outrage likely feel psychology played a key role on the field. But what does U of T's Brian Shaw, the Jays' own psychologist say?

PHOTO BY JOHNNY GUATTO

Can Toronto meet growing demand for services with existing resources?

Alumnus Peter Wallace, Toronto's new city manager, spoke to an audience at a session sponsored by the Institute on Municipal Finance & Governance (IMFG). President Meric Gertler and Enid Slack, director of IMFG were part of the conversation.
Meet Horizon, the only Canadian car in this year's world solar-powered race

Vice | Oct. 19, 2015

The quest to break the two-hour marathon mark

Toronto Star | Oct. 17, 2015

Loewen: campaigns matter, and the polling numbers show why

Ottawa Citizen | Oct. 16, 2015

These are the world's most creative countries

Quartz | Oct. 16, 2015
// IN MEMORIAM

Remembering Richard Miller

Professor Emeritus Richard Miller was the founding chair of the department of immunology and a former chair of the medical biophysics department. The flag will be lowered to half-mast today in remembrance of Professor Miller, and Victoria University Chancellor Emeritus Kenneth Taylor.

// EMPLOYEE NEWS

Health and wellness for students

If students approach you with health-related questions, you can refer them to a number of resources:
At St. George:
CAPS has merged with Health Services to create the Health & Wellness Centre
At UTM:
Health & Counselling Centre
At UTSC:
Health & Wellness Centre


Building math skills with an innovative tool developed at UTSC

Students transitioning into university have a new learning support tool at their disposal thanks to a series of online math skills development modules developed at UTSC.

// EMPLOYEE SERVICES

Employee Self-Service: new online services coming this fall

Watch these videos to learn more about the upcoming changes to ESS.

// PROFESSIONAL DEVELOPMENT

Ask a TA

Do you have a question about being a TA or a course instructor but aren't sure who to ask? From livening up tutorial lessons to getting students engaged, now you can get answers to your questions through Ask a TA.

Creating the space to cultivate scholarship on your teaching

On Oct. 28, review various strategies that can be employed to transform conceptual research ideas into concrete research questions within teaching.

// WORK-LIFE

Talk about teens and drinking with Alyson Shafer

Teens today face enormous pressures that can put them at risk for underage drinking. Join this session on Nov. 6 that will provide educators and parents the tools and strategies required to navigate this area in the lives of teens.
TODAY City as Classroom: Ideas without Walls

Oct. 20, 2015 | Coach House Institute, 39A Queen's Park Crescent East

TODAY Thirty-seventh Annual UC Book Sale

Oct. 20, 2015 | East and West Halls, University College, 15 King's College Circle

Bioethics seminar | A Change of Medical Education Paradigm: the Key for Humanized Healthcare Systems

Oct. 21, 2015 | Room 108, Health Sciences Building, 155 College Street

Complex Social Change

Oct. 21, 2015 (ongoing until Jan. 23, 2015) | Doris McCarthy Gallery, 1265 Military Trail, UTSC

Uber Urbanism

Oct. 22, 2015 | 93 Charles Street West

The F.E.L. Priestley Memorial Lectures in the History of Ideas | Art and Thought in the Cold War

Oct 21-23, 2015 | Room UC 140, University College, 15 King's College Circle

TRRC Talk | "Two Protestant Revengers" with Elizabeth Pentland

Oct. 28, 2015 | Senior Common Room, Burwash Hall, Victoria College, 91 Charles Street West

Meet the Johnson & Johnson Innovation Team

Oct. 29, 2015 | MaRS Auditorium, MaRS Centre, 101 College Street

FUTURA Mission – 200 Days in Space

Nov. 3, 2015 | Walter Hall, 80 Queens Park

The Judicial Interpretation of Social Rights: Explaining Brazilian Right to Health Litigation

Nov. 4, 2015 | 208N, North House, Munk School, 1 Devonshire Place

Book symposium – What's Wrong with Copying?

Nov. 13, 2015 | Vivian and David Campbell Conference Facility, Munk School of Global Affairs, 1 Devonshire Place

Complexity and the Ethics of Systems Thinking in Global Health

Nov. 18, 2015 | East Commons Room, 7 Hart House Circle, Hart House
Do you have an upcoming event? Don't forget to visit Events @ U of T to add your event to our calendar.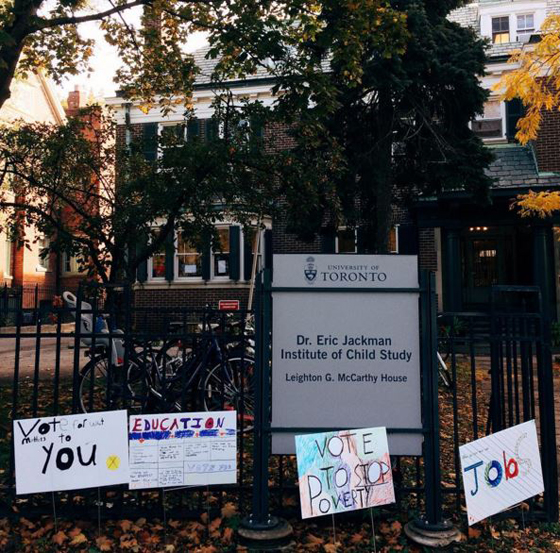 "Jackman ICS Lab School students draw about the important election issues for #Election2015"
By chrisungeun


Don't forget to tag your U of T photos #UofTBulletin or #UofT for a chance to be featured in The Bulletin.
// STAY CONNECTED
Follow U of T on Twitter, Facebook or Instagram below. Visit our social media directory for all U of T departments.



Oct. 31

Nov. 1, 2015

Sponsor Deadline: Nov. 16, 2015



Sponsor Deadline: Nov. 19, 2015

Sponsor Deadline: Nov. 27, 2015

Sponsor Deadline: Nov. 30, 2015

Sponsor Deadline: Nov. 30, 2015