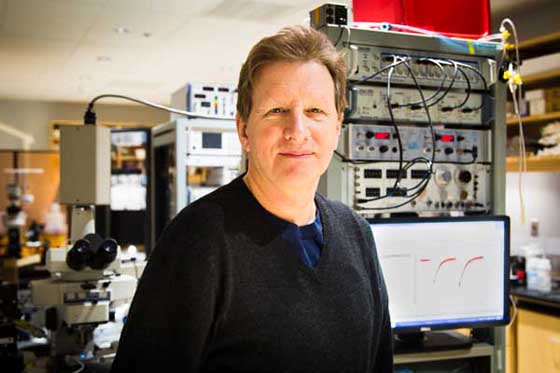 University of Toronto researcher wins "Nobel of Neuroscience"
U of T physiology professor Graham Collingridge has been awarded the world's most valuable prize for brain research.
Nelson Wiseman: externals crucial to Ontario budget

Ontario has tabled a budget that promises free tuition to many college and university students and tuition relief to most. The provincial Liberals also say they are well on their way to balancing the Ontario budget in 2017-2018 – despite a formidable debt and increases in expenditures. U of T News spoke with Nelson Wiseman about the lower-than-originally-projected deficit, the implications of the tuition plan and the role governments play in determining – and predicting – the state of the economy.

National Cancer Institute invests $4 million in U of T startup Pathcore

Technology developed by University of Toronto startup Pathcore™ is making the tedious and complex task of reading potentially cancerous tissue samples faster and more accurate. Now, the National Cancer Institute is investing $4M in the development project, which will allow the startup to expand the translating and validating automated cancer diagnostics into clinical tools.

PHOTO BY NOREEN AHMED-ULLAH

Harvesting the government web space

At a time when more and more government publications are online, U of T is archiving the most extensive and accessible collection of online captures of government websites in the country. The university's efforts are critical because they're preserving information – and in turn keeping governments accountable – in an era when the documents are no longer available in print and always changing on the Internet.

Raising U.S. recruitment prospects for U of T

More than 100 universities participate in Raise.me, a website that puts American high-school students in touch with universities. But there is no restriction on which schools can become involved. Two weeks ago the University of Toronto threw its hat in the Raise.me ring. Already U of T has more than 500 followers.

PHOTO BY DON CAMPBELL

Competition seeks student input on controlling Asian carp

The Asian Carp Innovative Solutions Competition hosted by U of T Scarborough will feature student teams pitching their designs and technologies to prevent, control and even eliminate the Asian carp invasion. Writer Don Campbell spoke to Nick Mandrak of UTSC, an expert on aquatic invasive species and the event's keynote speaker.

// STAY CONNECTED

Follow U of T News on Twitter here.




U of T researchers awarded $5.3 million in NSERC Strategic Partnership Grants

Ten University of Toronto researchers have been awarded Natural Sciences and Engineering Research Council (NSERC) Strategic Partnership Grants. "We are delighted that U of T researchers have done so well in this round of the SPG program," said Vivek Goel, vice-president, research and innovation. "Thank you to the Government of Canada, NSERC and our partners on these projects for helping our researchers conduct work that will make a tangible impact here in Canada and globally."

U of T opens mental health and physical activity research centre

The Faculty of Kinesiology & Physical Education has launched the Mental Health and Physical Activity Research Centre (MPARC), one of the first research facilities in Canada to integrate the study of physical activity and mental health. This multidisciplinary centre will address the enormous burden of mental health issues.

photo by Enko Koceku

Digital hygiene website aims to make the Internet a little less scary

"You're less incognito than you think." That's the blunt message that greets visitors to the recently created Hygiene in the Digital Public Square website, a joint project of U of T's Munk School of Global Affairs and online security specialists eQualit.ie. Sean Willett, creative director for the project, is one of the founders of the site. He spoke to U of T News about Hygiene in the Digital Public Square.

Should they stay or should they go?

No other country has left the European Union before, but on June 23 citizens of the United Kingdom will vote on whether their country will remain a part of the EU. The deliberation has important ramifications for Europe and North America. U of T News caught up with Randall Hansen about the"Brexit" (British Exit) referendum.

photo by Timothy Tse

Munk students make the most of Reading Week

Reading Week is seen by many as a time to leave their books behind and unwind before the start of exam season. But nearly 40 students from the Munk School of Global Affairs used the week away from classes to travel to Japan, Georgia or Vietnam to study everything from urban development to energy legislation.

Microbes strike back: Q&A with Professor Andrew Simor

Among scientists battling the global crisis of drug resistance is Andrew Simor of the department of laboratory medicine and pathobiology. Simor spoke with writer Michelle Lee about the principles behind the emergence and spread of antimicrobial resistance, and how his work contributes to the development of preventive strategies and treatments.
The secrets of Oak Ridge

The National, CBC | Mar. 1, 2016

Seeking justice for Svetlana Alliluyeva, Stalin's only daughter

Maclean's Magazine | Mar. 1, 2016

U of T researcher earns world's richest prize for brain research

The Globe and Mail | Mar. 1, 2016

Sex, drugs and dying: you've come a long way Canada

The Globe and Mail | Mar. 1, 2016

Peter Wittek, a roving adventurer between machine intelligence and quantum physics

Huffington Post | Mar. 1, 2016

University of Toronto political scientist Stephen Clarkson dies at 78

The Globe and Mail | Feb. 29, 2016
// EMPLOYEE NEWS

U of T honoured as one of Canada's top family-friendly employers for 2016 for the fourth consecutive year!

Apply now for the 2015 Child Care Benefit – deadline Mar. 18

Need a copy of your tax slip(s)?

It's tax time again! Find information on the 2015 T4/ T4A /T4ANR tax slips.

Learn about the tax slip consent program

Find out how to get your tax slips online through Employee Self-Service (ESS)

// AWARDS AND RECOGNITION

Key Dates: awards and recognition

Learn more about upcoming recognition events and deadlines

// VOLUNTEER REQUESTS

Make a difference in the life of a new immigrant

U of T employees are invited to learn more about The Toronto Region Immigrant Employment Council's (TRIEC) Mentoring Partnership program. This year's aim is to recruit more mentors to help surpass the milestone of 100 skilled immigrants matched with U of T mentors. Register today.
The University of Toronto and University of Toronto Alumni Association congratulate all of this year's outstanding Awards of Excellence recipients. Look out for future announcements about the 2016 recipients in The Bulletin over the coming weeks.

Professor Andrea Most wins the 2016 Northrop Frye Award

Thanks to her groundbreaking interdisciplinary work and the innovative ways she's found to share her research with students, Professor Andrea Most has won the 2016 Northrop Frye Award in the individual category. This honour recognizes outstanding teaching that succeeds in conveying the importance – and excitement – of research to students at the university.

The department of anthropology wins the Northrop Frye Award in the divisional/ departmental category

The department of anthropology in the Faculty of Arts & Science is the 2016 recipient of the Northrop Frye Award. By integrating original fieldwork into undergraduate courses, the department has introduced students to research and roused their enthusiasm, key criteria for the prestigious award.

Theodora Bruun wins the prestigious John H. Moss Scholarship

Theodora Bruun, a final-year student at Victoria University at the University of Toronto, is the winner of the prestigious John H. Moss Scholarship for 2016.
Astronomy's Golden Age: Planetarium Shows in Aid of Syrian Refugees

Mar. 4, 10, 24, 31, 2016 | Planetarium, 50 St. George St.

Soul on Ice Film Screening

Mar. 9, 2016 | Goldring Centre for High Performance Sport, 100 Devonshire Pl.

Artist Talk with Georgina Uhlyarik

Mar. 10, 2016 | MW130, Social Science Building, 1265 Military Tr.

Daniels Faculty B.E.S.T. lecture: "Landscape Punctures" with Victoria Taylor, VTLA, Toronto

Mar. 10, 2016 | Room 103, 230 College St.
Do you have an upcoming event? Don't forget to visit Events @ U of T to add your event to our calendar.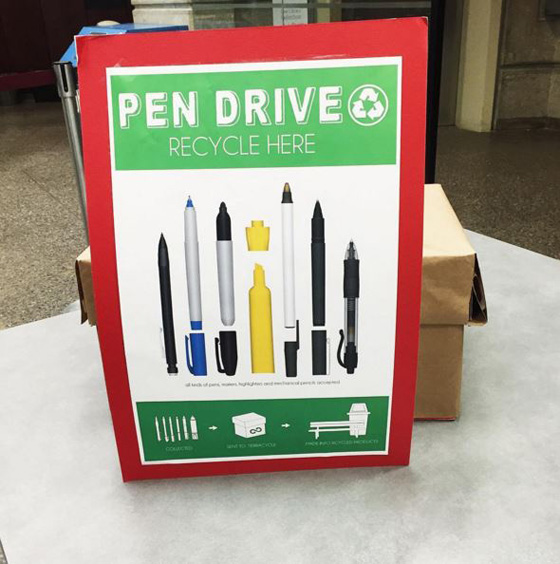 "#UofT, you can now recycle your pens at #RobartsLibrary thanks to the U of T Sustainability Commission. Look for the recycling box on the desk at the ground floor stacks elevator entrance. #uoftbulletin #uoftlibraries #utorlibs #recycling"
By uoftlibraries, via Instagram


Don't forget to tag your U of T photos #UofTBulletin or #UofT for a chance to be featured in The Bulletin.
// STAY CONNECTED
Follow U of T on Twitter, Facebook or Instagram below. Visit our social media directory for all U of T departments.



Sponsor Deadline: Mar. 11, 2016

Sponsor Deadline: Mar. 11, 2016



Sponsor Deadline: Mar. 15, 2016

Sponsor Deadline: Mar. 17, 2016