The Quality of Life Research Unit has been developing conceptual models and instruments for research, evaluation and assessment since 1991. In partnership with the Department of Occupational Therapy and Centre for Health Promotion, at the University of Toronto, the unit carries out quality of life research that relates to communities, families, and individuals from a variety of population groups. Of particular concern, has been the quality of life for those who are most vulnerable, such as people with developmental disabilities, children with long-term developmental delays disabilities, and seniors. Instruments, reports, manuals, and other publications developed through our research are made available on a cost-recovery basis.
Quality of Life is an area of study that has attracted an ever increasing amount of interest over the past two decades, particularly in the areas of health, rehabilitation, disabilities studies, and social services, but also in medicine, education, and others.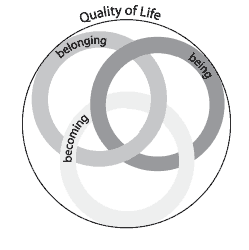 The study of Quality of Life is an examination of influences upon the goodness and meaning in life, as well as people's happiness and well-being. From our perspective, the ultimate goal of quality of life study and its subsequent applications is to enable people to live quality lives -- lives that are both meaningful and enjoyed.
Research Unit Director
Dr. Rebecca Renwick
Manager
Ted Myerscough