In The News
Sidhulab designs new modulators of deubiquitinase activity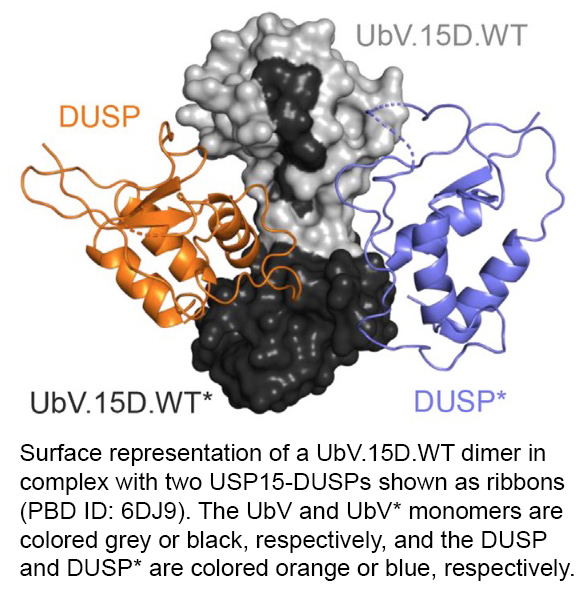 October 2021. Extending the use of phage display technology to engineer variants of ubiquitin (UbVs), which was previously established in the Sidhulab, PhD student Jason Tang and colleagues designed new dimeric UbV libraries to develop probes to interrogate the poorly understood function of 'domains found in ubiquitin specific proteases' (DUSPs) present in a subset of deubiquitylating (DUB) enzymes of the ubiquitin specific protease (USP) family.
UbVs specific to purified DUSP domains of 5 USPs were obtained that exhibited robust binding to their cognate DUSPs. These UbVs were able to potently inhibit the catalytic activity of the enzyme, even though the DUSP domain targeted is outside the catalytic domain.

These findings highlight the power of UbV technology as a tool to study the function of protein domains. Morevoer, the results suggest that DUSPs could be alternative target sites for therapeutic inhibition of disease-associated USPs.
The study is published in the Journal of Molecular Biology.
Sidhulab tetravalent antibodies as potential new therapeutics for COVID-19, effective against mutants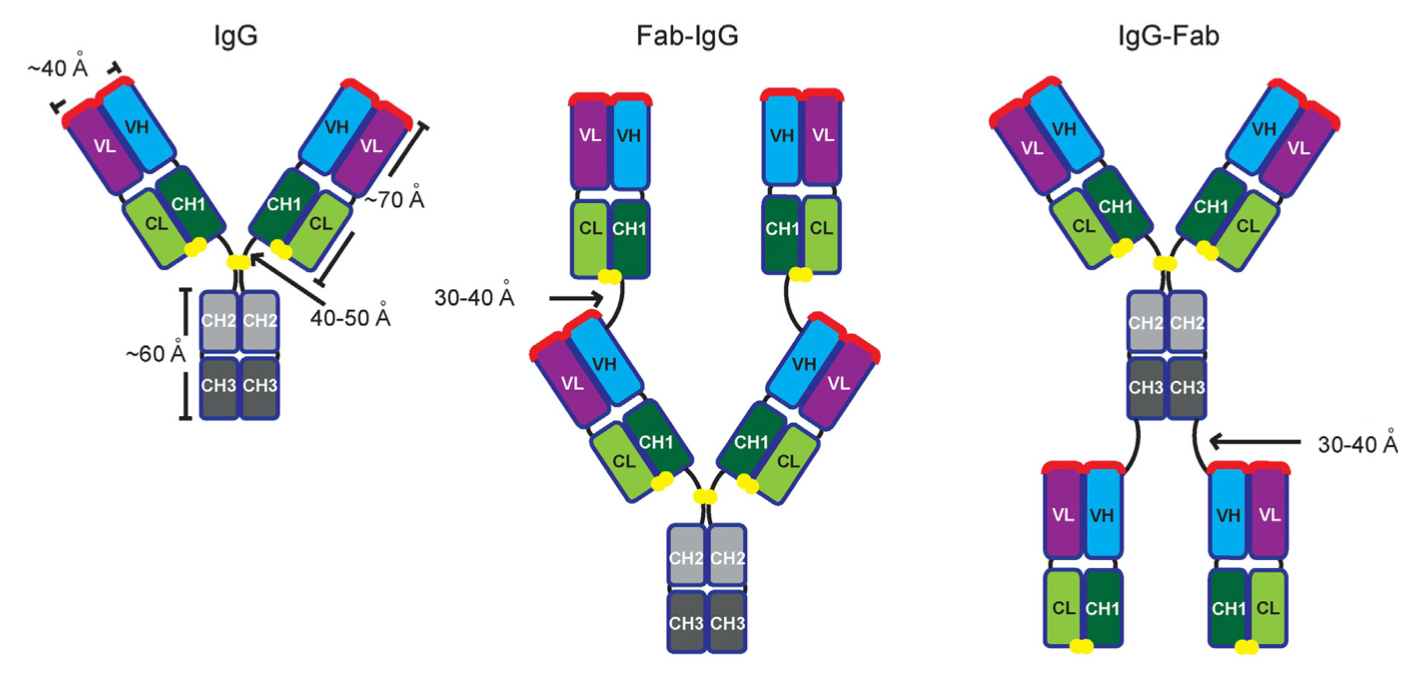 July 2021. A year of intensive research led by Sidhulab research associate Shane Miersch, together with colleagues at Washington University, St. Louis, identified potent neutralizing antibodies to SARS-CoV-2. The study was published in the Journal of Molecular Biology.
The antibodies target the receptor binding domain (RBD) of the SARS-CoV-2 spike protein, which the virus uses as a key for entry into human cells by binding the human ACE2 receptor. Going beyond classical IgGs, the team engineered tetravalent antibody species (Fab-IgGs and IgG-Fabs) from optimized IgGs. The tetravalent antibodies have enhanced efficiency for neutralizing viral infection compared to the parent IgG.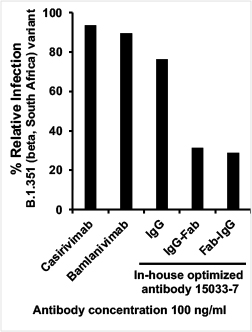 Moreover, these antibodies are more effective against some SARS-CoV-2 mutants than the parent IgG and currently approved therapeutic antibodies (such as Regeneron's casirivimab and Eli Lilly's bamlanivimab). The study therefore highlights a major advantage of this approach for tackling emerging variants of concern. Additionally, the antibodies are poised to form the basis for a made-in-Canada, fairly priced and accessible drug to treat COVID-19, resulting in many lives saved and a reduced burden on the Canadian healthcare system.
The Sidhu team is collaborating with Dr. Giuseppe Novelli, a Professor of Medical Genetics at the University of Rome Tor Vergata, to move our top candidate neutralizing antibodies towards clinical trials.
On February 12, 2021, Mr. Nicola Zingaretti, President of the Lazio Region, visited Dr. Novelli's hospital and laboratory facilities, where Dr. Novelli highlighted the work being done to rapidly generate effective anti-COVID-19 therapeutics. The Sidhu lab is thrilled to be part of this initiative.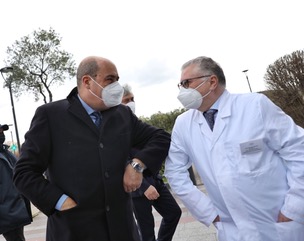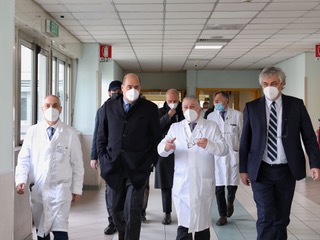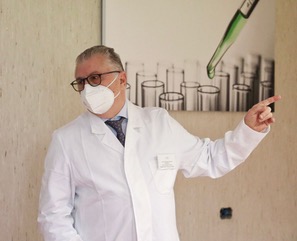 Sidhulab research makes cover of ACS chemical biology!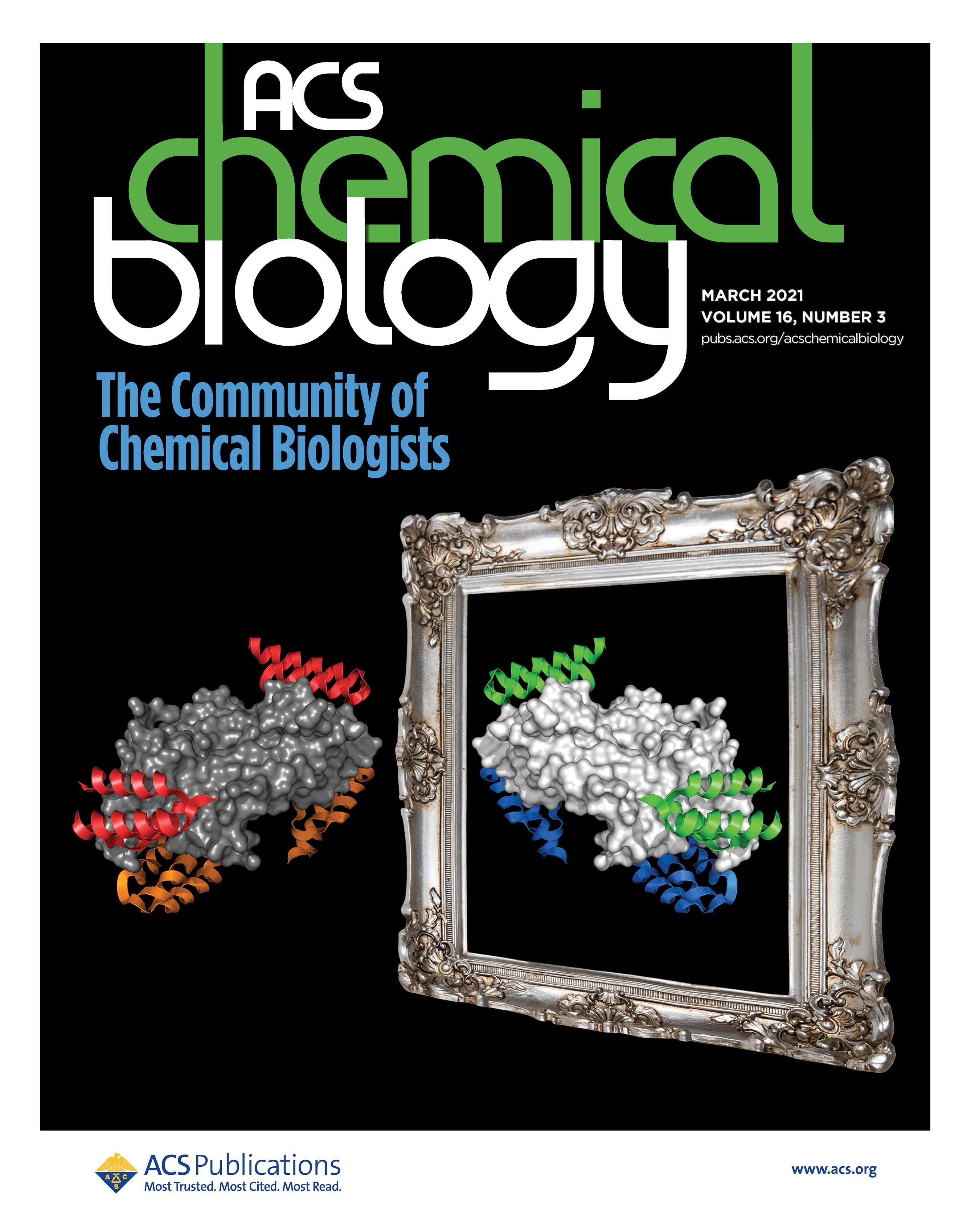 March 2021. A recent publication from the Sidhu group in collaboration with Reflexion Pharmaceuticals was highlighted on the cover of the March 2021 issue of ACS Chemical Biology.
The article reports a general approach to engineering multivalent d-proteins with antibody-like activities in vivo. Mirror-image phage display and structure-guided design were utilized to create a d-protein that uses receptor mimicry to antagonize vascular endothelial growth factor A (VEGF-A). Selections against the d-protein form of VEGF-A using phage-displayed libraries of two different domain scaffolds yielded two proteins that bound distinct receptor interaction sites on VEGF-A.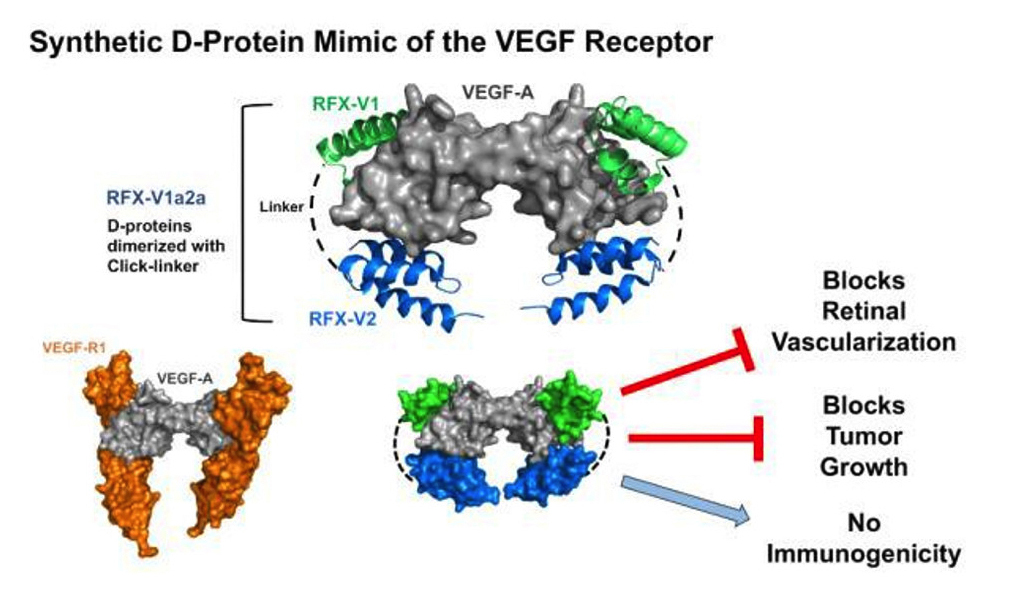 X-ray crystal structures of the d-protein/VEGF-A complexes were used to guide affinity maturation and to construct a heterodimeric d-protein VEGF-A antagonist with picomolar activity. The d-protein VEGF-A antagonist prevented vascular leakage in a rabbit eye model of wet age-related macular degeneration and slowed tumor growth in the MC38 syngeneic mouse tumor model with efficacies comparable to those of approved antibody drugs, and in contrast with antibodies, the d-protein was non-immunogenic during treatment and following subcutaneous immunizations.
Dr. Sidhu elected as a Fellow of the National Academy of Inventors
December 2020. Dr. Sachdev Sidhu is amongst the 175 academic innovators newly elected as Fellows of the National Academy of Inventors (NAI). This distinction highlights Dr. Sidhu's inventive contributions in terms of patents, company creation and its ensuing job creation and revenue, and the impact these inventions have made on society. More information on the NAIF program is available on the NAIF website.
Congratulations Dev!
COVID-19 treatment developed by the Sidhu team will go through clinical trials in Italy
November 2020. An article in The Star details the struggles of the Sidhu team to garner support from Canada to produce and test their anti-COVID-19 treatment. Developed in collaboration with Dr. James Rini (University of Toronto) and Dr. Gaya Amarasinghe (Washington University, St. Louis), the treatment consists of a synthetic antibody that binds to the virus spike protein, prevents entry of the virus into human cells, and effectively inhibits infection. The antibody could be a game changer for vulnerable patients. It was rapidly developed by the Sidhu team and collaborators in 6 months using CIHR, NIH and private foundation grants, and is ready for large-scale production and clinical trials. However, requests for support from the University of Toronto and both provincial and federal levels of government have thus far fallen on deaf ears, which prompted Dr. Sidhu to seek alternate locations to test the promising drug - and Italy is on board. Dr. Sidhu deplores this lack of support, which would have ensured that a Canadian-made drug would be produced in Canada and would be used to treat Canadian patients first.
Dr. Sidhu profiled in Toronto Life's "Reasons to love Toronto"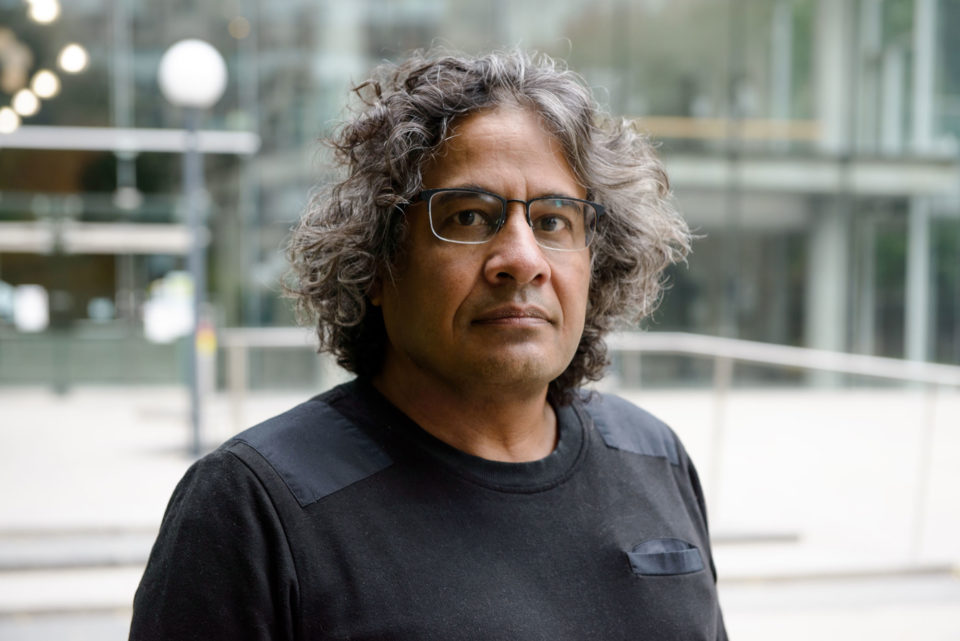 October 2020. Dr. Sidhu was profiled in the "Reasons to love Toronto" feature of Toronto Life Magazine, entitled "No 3: Because our best and brightest are leading the fight against Covid", as a biomedical engineer working on the development of COVID-19 therapeutics. He was among a handful of Toronto scientists and personalities profiled as leading the fight against COVID-19.
Dr. Sidhu co-founds new biotech company Virna Therapeutics to develop COVID-19 antivirals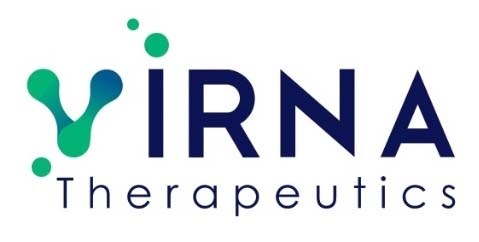 May 2020. To accelerate the development of antivirals to address the COVID-19 pandemic, Dr. Sidhu teamed up with Dr. Suresh K. Jain and Dr. Pier Paolo Pandolfi to found the new biotechnology company Virna Therapeutics. The company will leverage the expertise of the founding partners and will use several strategies to target the SARS-CoV-2 virus, including antibodies and protein-based enzyme inhibitors engineered at TRAC. Read the press release here.
Dr. Sidhu explains the power of antibody-based antivirals
May 2020. Listen to this hour-long interview of Dr. Sidhu on the Dean Blundell Podcast, which aired May 25, 2020. In the interview Dr. Sidhu discusses the difference between vaccines and antivirals, and the role that antivirals will play in the overall response to the pandemic. He also discusses the kind of antivirals his group has been rapidly developing over the last two months and what is needed for them to be able to be used by patients.
Pharmaceutical giant Celgene renews its support of academic synthetic antibody research and development
May 2020. After having supported the Recombinant Antibody Network (RAN) for the last 4 years, the pharmaceutical company Celgene (now a Bristol-Myers Squibb company) has renewed its committment to the development of biologics, notably synthetic antibodies, by injecting another US $37.5 million into RAN projects. The RAN was founded by Dr. Sidhu and Drs. Anthony Kossiakoff (UChicago) and Jim Wells (UCSF) with an initial NIH grant, and continues to develop state-of-the art technology and synthetic antibodies with therapeutic applications, notably for cancer, inflammation and immunological disorders. This is a significant source of support, which highlights the value of the work done in the Sidhu lab, at TRAC, and in the RAN as a whole. "The new collaboration between RAN and Celgene is bigger and better, and it will enable technological innovation to fuel novel biologic drug discovery for unmet medical needs" says Dr. Sidhu. Read more about it here and here.
Sidhu group recipient of CIHR COVID-19 rapid research funding
March 2020. The Sidhu group has received CIHR funding to develop antiviral against the SARS-CoV-2 virus that causes COVID-19, as part of the Government of Canada Initiative to accelerate COVID-19 research.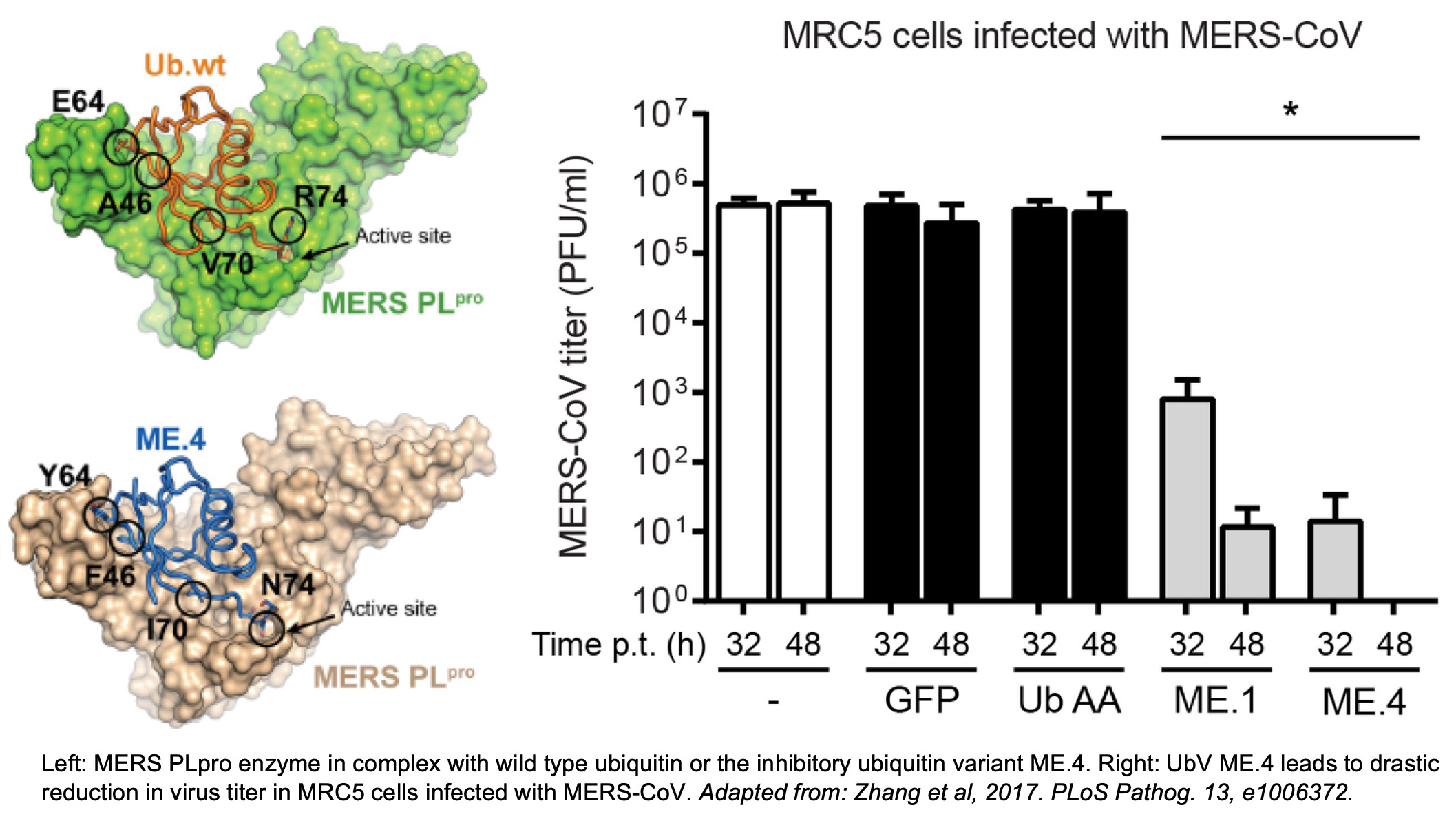 One CIHR grant, led by Dr. Sidhu, supports the development of inhibitors of a viral enzyme critical for its propagation. The team is leveraging their ubiquitin variant (UbV) platform to target an intracellular enzyme that has deubiquitinase activity. The team and colleagues had previously demonstrated that inhibitory UbVs targeting the homologous enzyme in the MERS virus of the coronavirus family were able to completely block viral replication. The goals of the current project are to engineer UbVs specific to the SARS-CoV-2 enzyme as inhibitory molecules, to solve the structure of UbV-enzyme complexes to understand the mechanisms of inhibition and further optimize the inhibitors, and to use these UbVs in displacement screens to identify small molecules with similar inhibitory function, that can be developed into COVID-19 therapeutics. The project includes viral structural biologist Dr. Brian Mark (University of Manitoba), an expert in viral structural biology, and Dr. Roman Melnyk (SickKids Research Institute), a leader in small molecule development.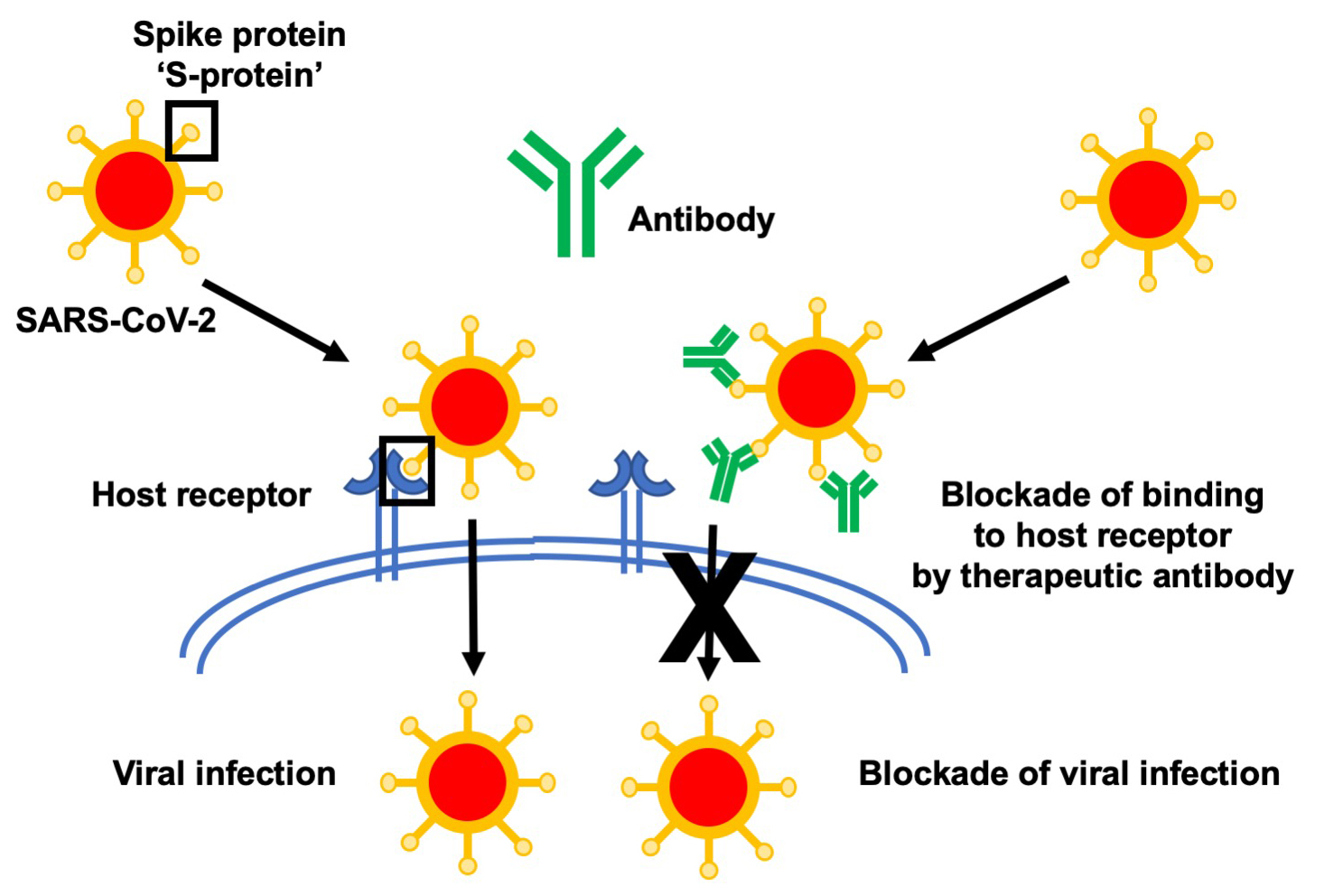 In the second CIHR grant, Dr. Sidhu is part of a team led by Dr. James Rini (University of Toronto) on a project that aims to develop antibodies to a protein on the surface of SARS-CoV-2, which is known to be the target of neutralizing antibodies in related coronaviruses. The Sidhu team will generate high affinity, high specificity antibodies that should interfere with the interaction of the virus with human host cells, preventing cellular entry. The Rini group will then perform structural studies to further understand the mechanism of neutralization. These antibodies are built on the same framework as many currently approved antibody drugs, such as Herceptin and Avastin used in cancer treatment, and therefore, they will be directly developable as therapeutic drugs for COVID-19.
"These grants will catalyze our efforts to rapidly develop therapies for COVID-19; my group is working full steam to ensure that our discoveries get translated into tangible health benefits for all, and we are reaching out to the government for additional development funds to turn our research into treatments" says Dr. Sidhu.
Read more about it here and here. The news was also featured in the Toronto Star.
Sidhu lab antibodies to be distributed by Absolute Antibody, Ltd.
December 2019. As part of the Recombinant Antibody Network (RAN), the Sidhu group signed a new agreement to distribute some of the antibodies produced at the Toronto Recombinant Antibody Centre (TRAC) through Absolute Antibody, Ltd., a company seeking to make more recombinant antibodies available to users, by generating the antibodies at a proteome-wide scale.
Read more about the partnership in the press release.
The TRAC has moved!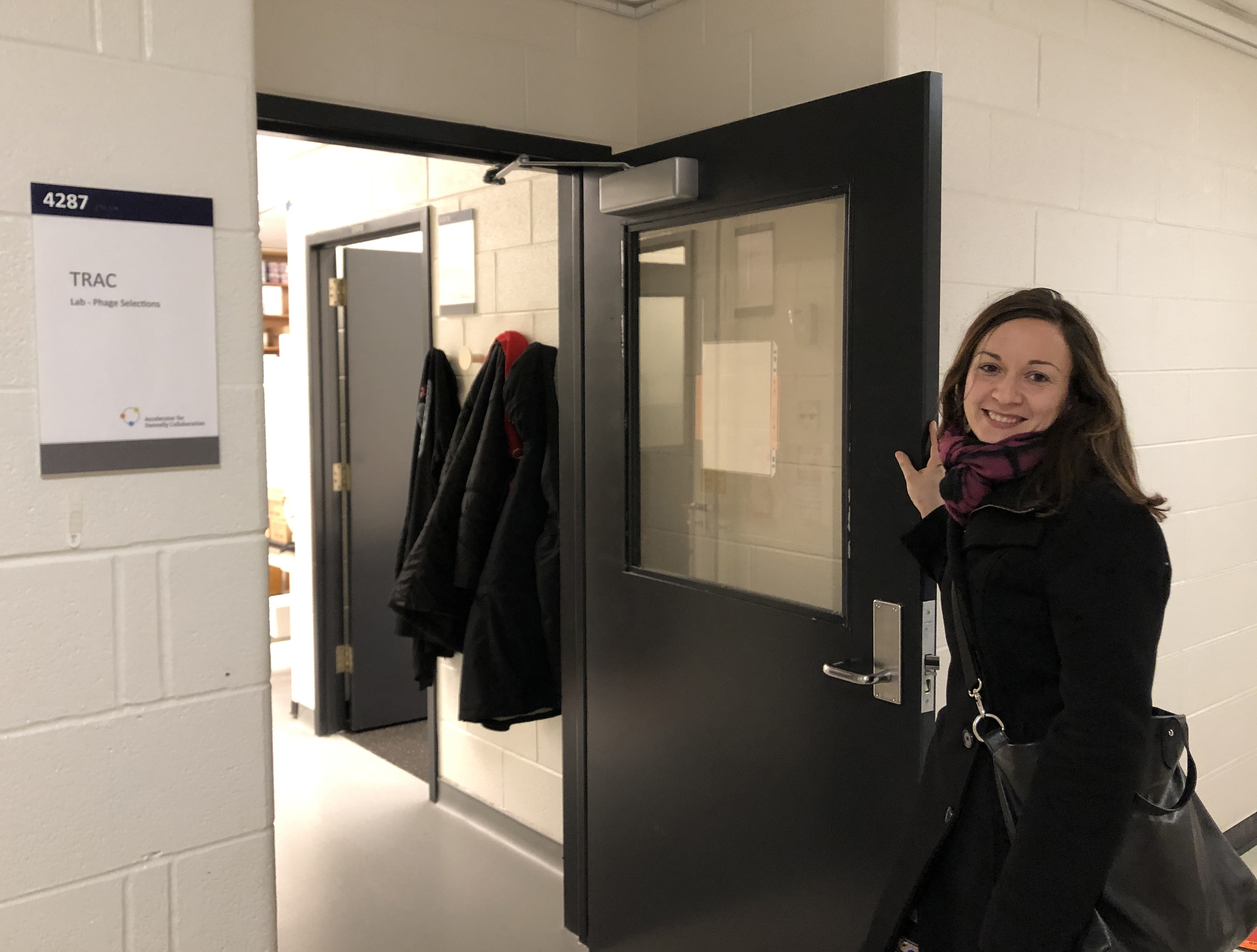 June 2019. The Toronto Recombinant Antibody Centre (TRAC), which had been housed in the Best building for the last 8 years, has moved to a new location in the Medical Sciences Building, in a new research space called the "Accelerator for Donnelly Collaboration (AcDC)". The AcDC aims to accelerate innovation and the commercialization of biotechnology discoveries made by Donnelly Centre researchers. Members of the Sidhu group TRAC team are excited to continue developing antibodies and biologics in this new space.
The TRAC also has a new co-Director, Dr. Lia Cardarelli, who is leading antibody development projects, while the ubiqutin variant (UbV) pipeline is under the leadership of Dr. Jacky Chung. See new contact information on our Contact page.
Sidhu team to participate in Medicine by Design Project
May 2019. The Sidhu group is excited to participate in a project that was recently granted a New Ideas Award as part of the University of Toronto's Medicine by Design program sponsored by the Canada First Research Excellence Fund. The project, led by cardiologist and SickKids scientist Dr. Robert Hamilton, aims to create new treatments for arrhythmogenic right ventricular cardiomyopathy (read more about Dr. Hamilton's research here). The Sidhu lab will contribute by generating highly specific synthetic antibodies to develop immunotherapies for this autoimmune condition.
Read more about recent Medicine by Design awards here.
Sidhu lab turns 10 years!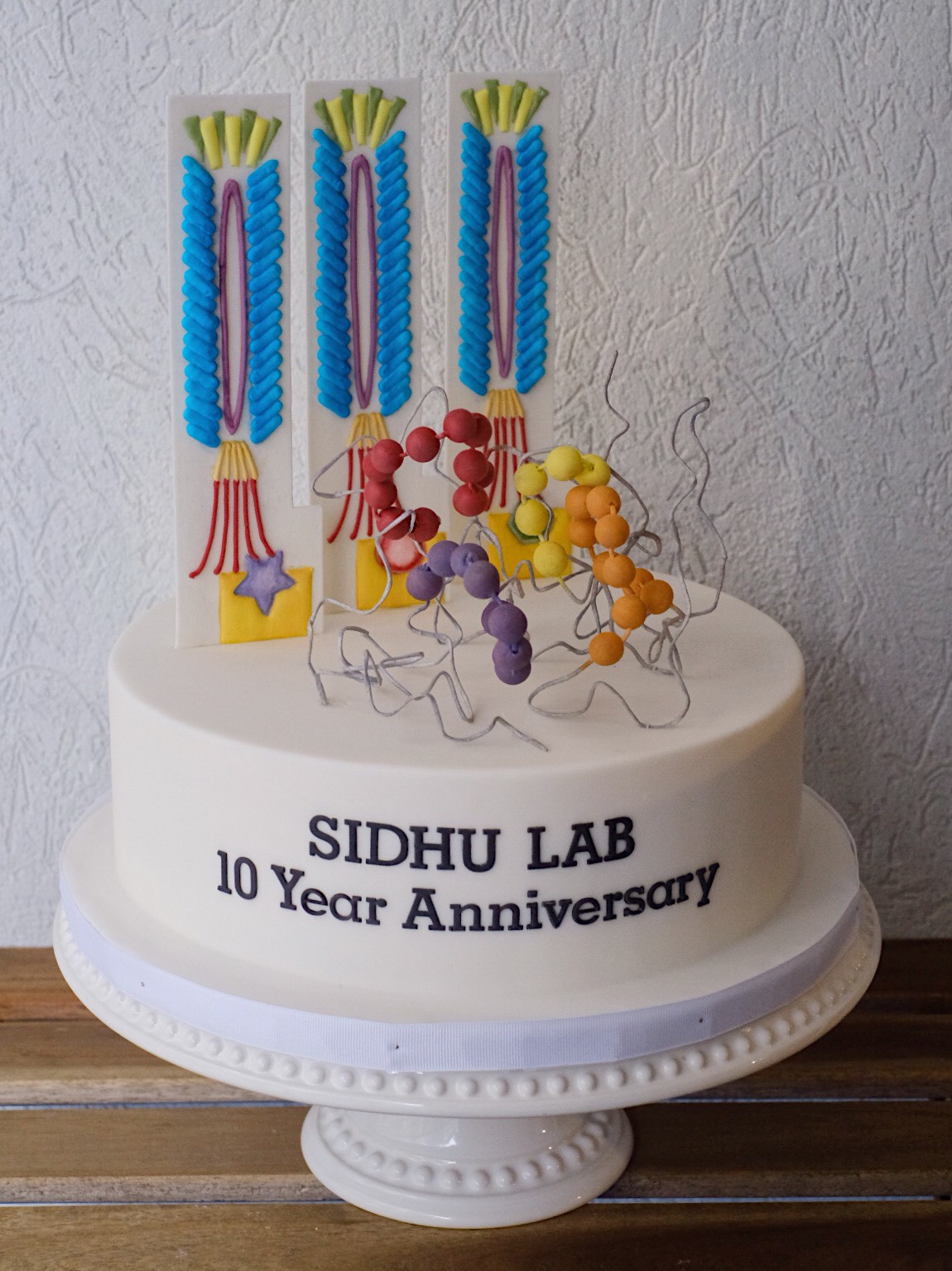 December 2018. It's been 10 years of exciting science since the inception of the Sidhu lab at the University of Toronto, and lab members celebrated with an "antibody - phage display" cake during a year-end lab meeting. Over the years, the lab has seen many students and postdocs coming through, while some staff has been there since the start.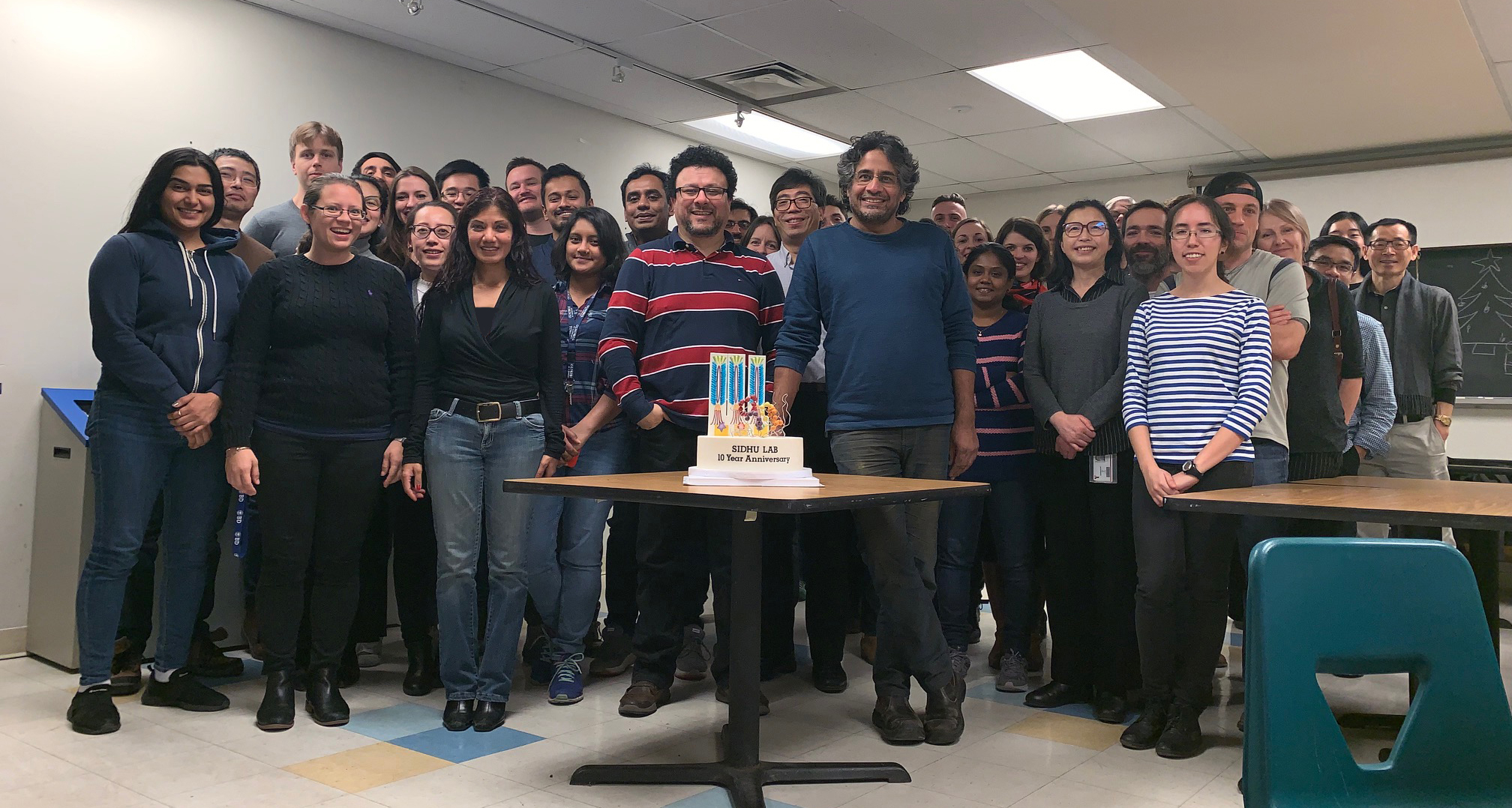 The lab has been very productive, with thousands of antibodies and other synthetic proteins being engineered and the publication of over 150 scientific articles. Read more about the lab accomplishments in numbers here. Dr. Sidhu, reflecting on the past 10 years, says "while I value my experience in the biotech sector, I thoroughly enjoyed my transition to an academic lab, where I have more freedom to explore areas of interest to me. I am proud of what the group has achieved in the last 10 years, and feel very fortunate to be surrounded by such highly talented scientists and motivated trainees. I have no doubt that in the next 10 years, we will further advance technology to generate exquisite synthetic proteins that can have many uses in therapeutics and diagnostics for the benefit of patients".
Here is to another 10 years of great science!
Antibody developed in Sidhu laboratory could be a potential therapeutic for hantavirus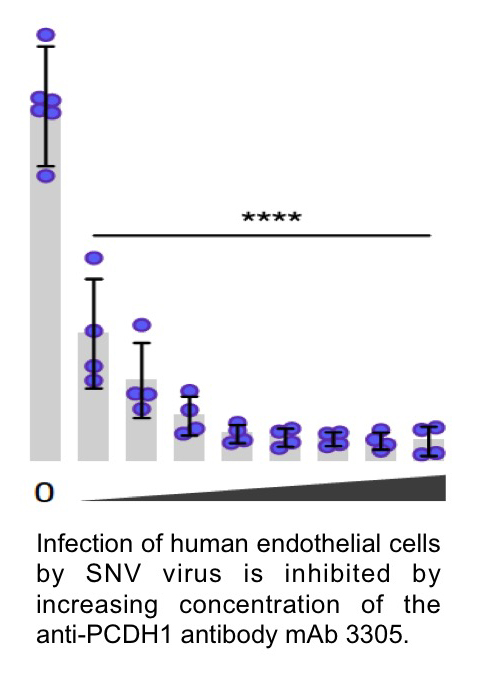 November 2018. A recent study by Jangra et al, published in Nature and featured in an NIH press release, describes how some New World viruses bind to a surface protein, protocadherin-1 (PCDH1), to gain entry into endothelial cells. Infection with some strains of hantavirus can cause severe respiratory illness, while other strains result in hemorrhagic fever with renal syndrome. The diseases may be fatal.
An antibody (mAb 3305) developed by the Sidhu group was used in the study to disrupt the interaction between viral proteins and PCDH1, which prevented viral entry into cells. The antibody was also able to block infection of animals by the viruses. The study illustrates the potential of antibodies as therapeutics against infectious disease.
2018 Nobel Prizes highlight the power of phage display of peptide and antibodies and the importance of immunotherapy to fight cancer
October 2018. The Sidhu group is thrilled that two of this year's Nobel Prizes recognize areas that are integral to the group's research.
The 2018 Nobel Prize in Chemistry was awarded in part to George P. Smith and Sir Gregory P. Winter, both of whom pioneered phage display methods for directed evolution of antibodies.
Dr. Sidhu, since his early days as a post-doctoral fellow with Dr. James Wells and then as a scientist at Genentech, worked intensely on further developing and optimizing phage display technology, and has been instrumental in the development of phage-displayed synthetic antibody libraries that surpass natural repertoires in diversity. Since starting his academic laboratory at the University of Toronto, Dr. Sidhu has continued to develop new libraries of antibodies and synthetic proteins based on various protein scaffolds, such as ubiquitin, to create antibodies and proteins that can be used as reagents, diagnostics and therapeutics. The group has now produced thousands of highly specific, high-affinity antibodies and synthetic proteins, many of which are being further explored for therapeutic applications.
The 2018 Nobel Prize in Physiology and Medicine, awarded to James P. Allison and Tasuku Honjo, recognizes a breakthrough in the development of new ways to fight cancer. The discovery of immune checkpoints, which put a break on the activity of immune cells, and the finding that cancer cells are able to exploit these checkpoints to evade immune surveillance, has led to the development of therapies that inhibit the checkpoints to enable our immune system to more efficiently destroy cancer cells.
The Sidhu group has been actively developing antibodies that recognize diverse checkpoint proteins, including CTLA-4, PD-1 and many others. These antibodies can inhibit the interaction of checkpoint proteins with cancer cells to prevent checkpoint activation. The group is also exploring ways to combine these with other therapies to improve effectiveness of treatment.
Dr. Sidhu has also collaborated closely with Dr. Max Krummel, a Professor at UCSF who, as a PhD student in Dr. Allison's group, was the co-inventor of one of the first approved anti-checkpoint antibody therapy (Ipilimumab, trade name Yervoy, which targets CTLA-4). In 2015, Drs. Krummel and Sidhu co-founded Pionyr Immunotherapeutics, a San Francisco-based biotech company focused on the development of immunotherapeutic antibodies and anti-cancer therapies that target the tumor microenvironment to enhance the body's anti-tumor immunity.
Sidhu lab Program Manager Christine Misquitta wins Staff Impact Award
July 2018. Dr. Christine Misquitta, a Senior Research Associate and Program Manager in the Sidhu lab, has won a 2018 Faculty of Medicine Staff Impact Award. Christine has been an invaluable member of the Sidhu team for the past 7 years. Her many roles in the lab include applying for and managing large-scale, multimillion dollar grants and industrial agreements, and showcasing the lab's research to a wide range of visitors from government officials to school kids. Christine was instrumental in setting up the TRAC lab space and obtaining funds to establish the CCAB.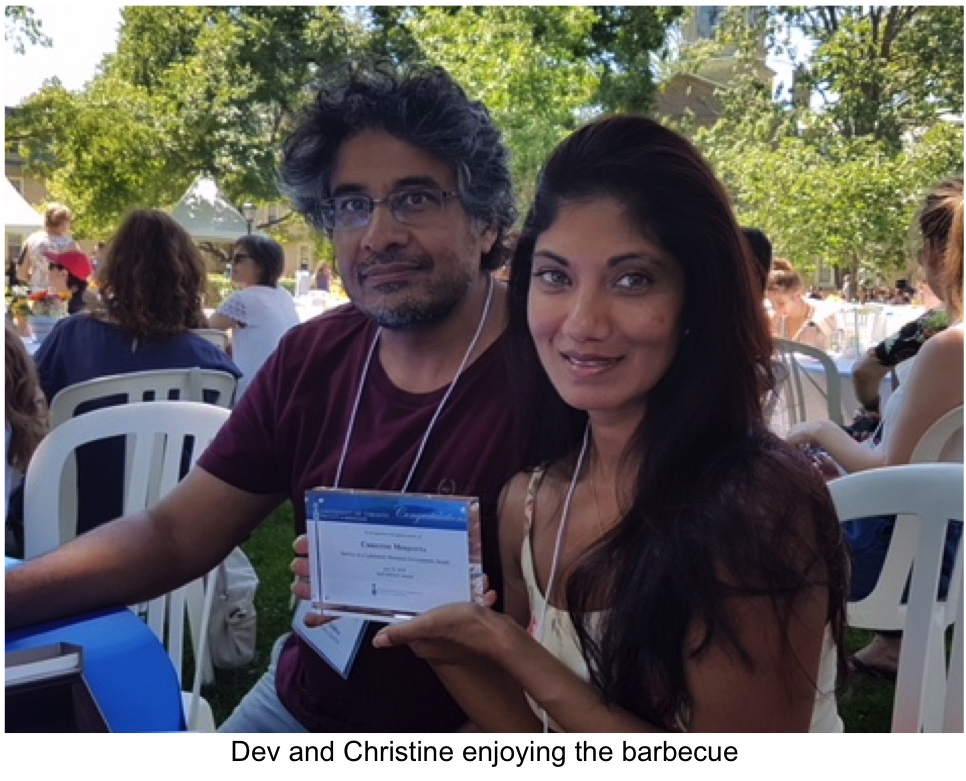 Christine's work supporting and promoting the lab was recognized with the "Service in a Laboratory Research Environment Award". The award was presented to Christine by the Dean of the Faculty of Medicine, Trevor Young, at a barbecue held on July 10. Dr. Sidhu, who nominated Christine for the award, says "Christine is one of the most passionate, driven individuals I have met and her commitment goes above and beyond what is expected of her. I truly consider her my right hand".
Congratulations Christine!
Read more about the awards here.
Sidhu lab graduate student Keshna Sood wins Poster Award at Protein Society conference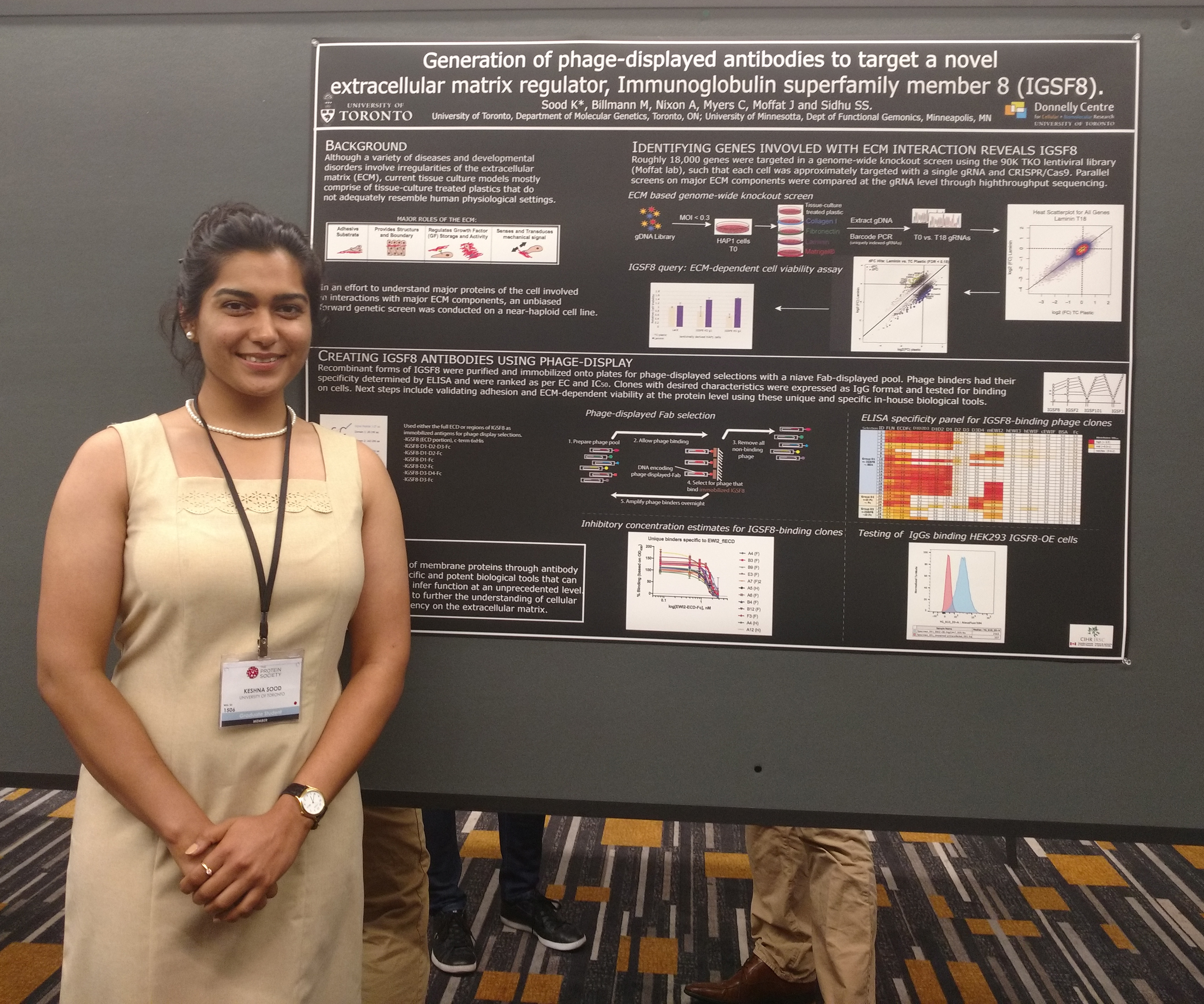 July 2018. Kehsna Sood, a Ph.D. student in the Sidhu lab, recently presented her work at the 32nd Annual Symposium of the Protein Society held in Boston, MA, July 9-12, 2018.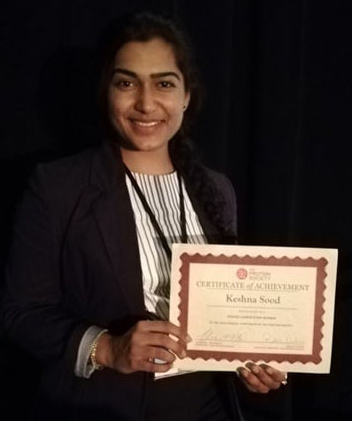 Her poster, entitled "Generation of phage-displayed antibodies to target a novel extracellular matrix regulator: immunoglobulin superfamily member 8", was very well received and earned her a Poster Award at the conference. Given that she won from a pool of over 600 trainee posters, this is an outstanding achievement!
Congratulations Keshna!
Sidhu lab collaboration leads to discovery of exquisitely specific modulators for RING and U-box E3 ligases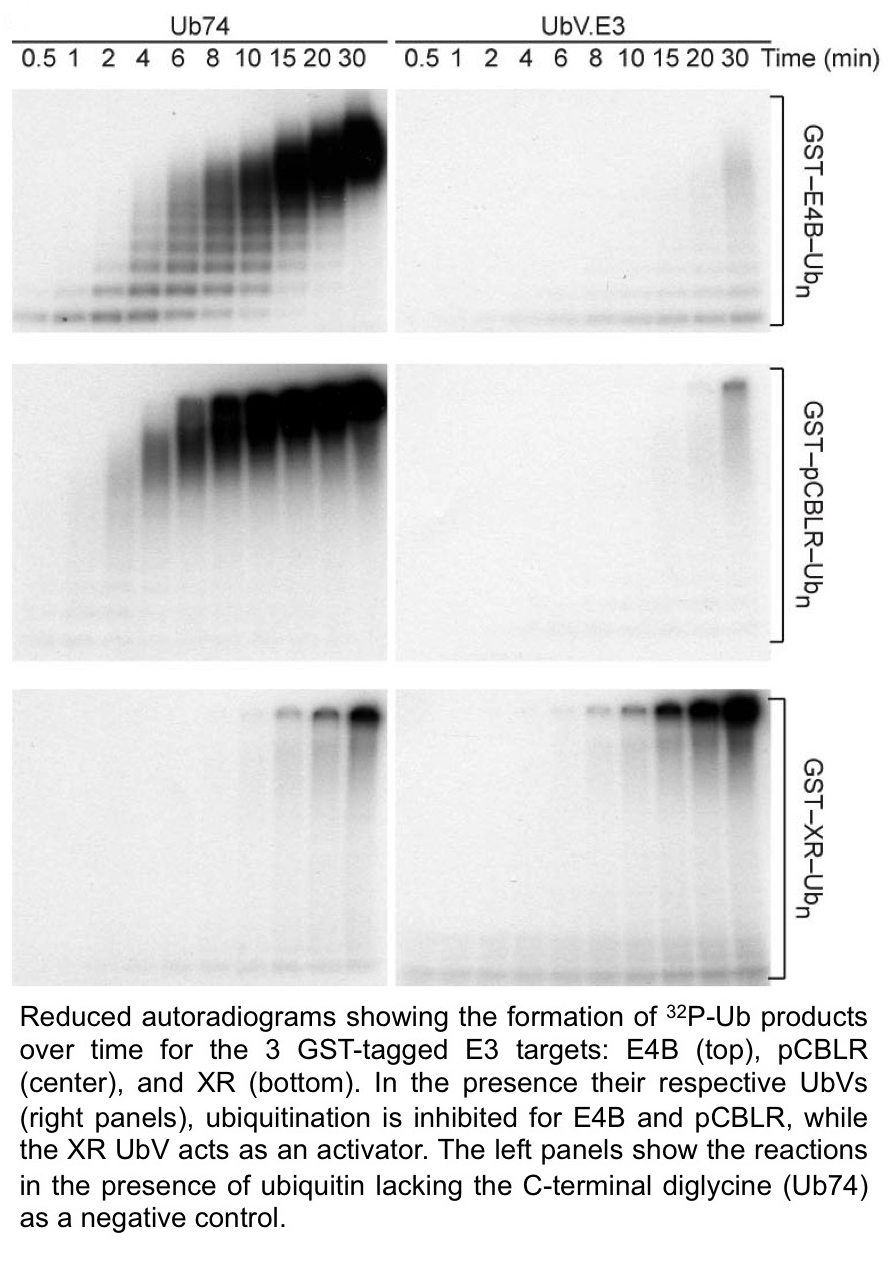 October 2017. The Sidhu team collaborated with the laboratory of Dr. Danny Huang at the Cancer Research UK Beatson Institute to develop novel modulators of RING and U-box E3 ligases. This is the largest family of E3 enzymes in the ubiquitin proteasome system (UPS) that participates in the third and final step of the ubiquitination process, controlling specificity and patterns of ubiquitination. Enzymes in the UPS have recently been recognized as major players in many biological processes and their deregulation has also been implicated in many diseases. Therefore, targeting these enzymes with inhibitors and activators to modulate their function is attractive for therapeutic purposes, but until recently, there was no good general strategy to develop these modulators.
This collaborative project therefore aimed to develop a platform for developing modulators on a family-wide scale, and a recent publication by the team in Molecular Cell highlights a proof-of-concept study using three RING/U-box targets for which modulators were successfully developed using UbV technology. Originally developed in the Sidhu laboratory, the UbV technology consists of engineering libraries of ubiquitin variants (UbVs) that can be screened to obtain highly specific, high affinity binders of a given target. Last year, with collaborators the Sidhu group developed inhibitors and activators for the HECT-type E3 ligases (see earlier post below). Here, the team created both inhibitor and activator UbVs and determined structures of UbVs bound to their target to gain insights on the molecular mechanisms of specificity and ability to modulate target function. The study demonstrates that this strategy is widely applicable to the generation of modulators for this entire family of enzymes, and moreover, the structural data obtained will inform novel iterations of UbV libraries optimized for this family of E3s.
Sidhu lab post-doctoral fellow Dr. Wei Zhang wins prestigious Cancer Research Society award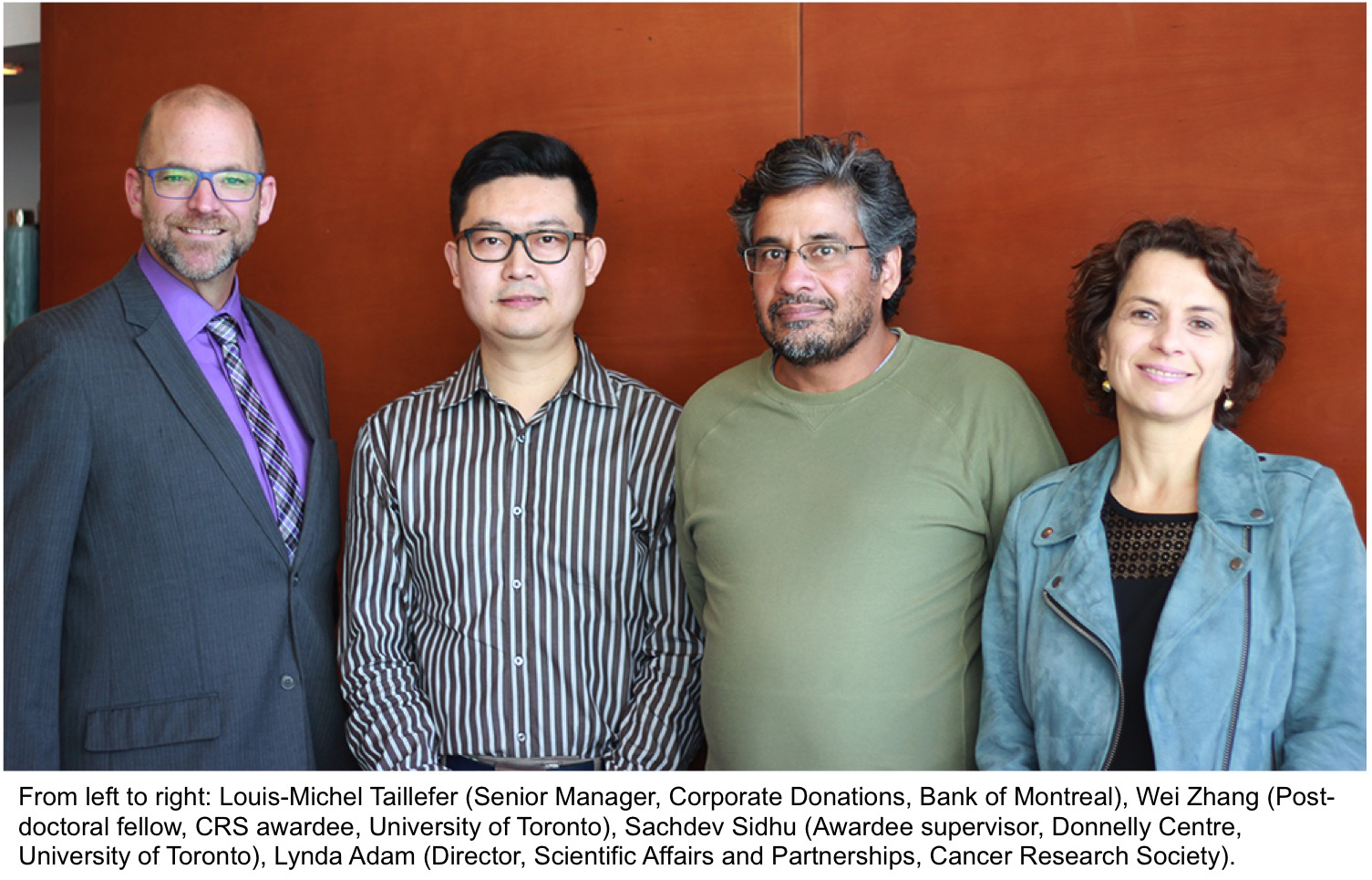 October 2017. Dr. Wei Zhang, a post-doctoral fellow in the Sidhu lab, has been awarded one of the highly prestigious "Scholarships for the Next Generation of Scientists" by the Cancer Research Society. Among the 4 applications funded, Dr. Zhang's application was ranked first in the competition, which garnered him a special award funded by BMO Bank of Montreal. As part of its 200th anniversary celebrations, BMO Bank of Montreal is partnering with the Cancer Research Society to fund the best applicant in the competition.
The Scholarships for the Next Generation of Scientists is a funding program that aims to support the future generation of Canadian researchers. The two-part award consists of post-doctoral support for end-of-fellowship trainees followed by a new investigator operating grant, thus bridging the transition from trainee to faculty.
Dr. Zhang joined the Sidhu lab in 2012. To support his post-doctoral studies, he obtained a highly competitive CIHR post-doctoral fellowship, as well as a Mitacs Elevate fellowship. Wei has been instrumental in moving the ubiquitin variant (UbV) program forward. Indeed, Wei has published 9 articles from his work in the Sidhu lab, including 4 as first author. One more article is in press. His outstanding achievements were recognized in 2016 with a Mitacs post-doctoral Outstanding Innovation award. The Cancer Research Society award will most certainly contribute to Wei's continued success as a burgeoning scientist. Congratulations Wei!
Read Wei's interview on the Donnelly Centre News.
Sidhu lab study uncovers non-canonical binding specificities for SH3 domains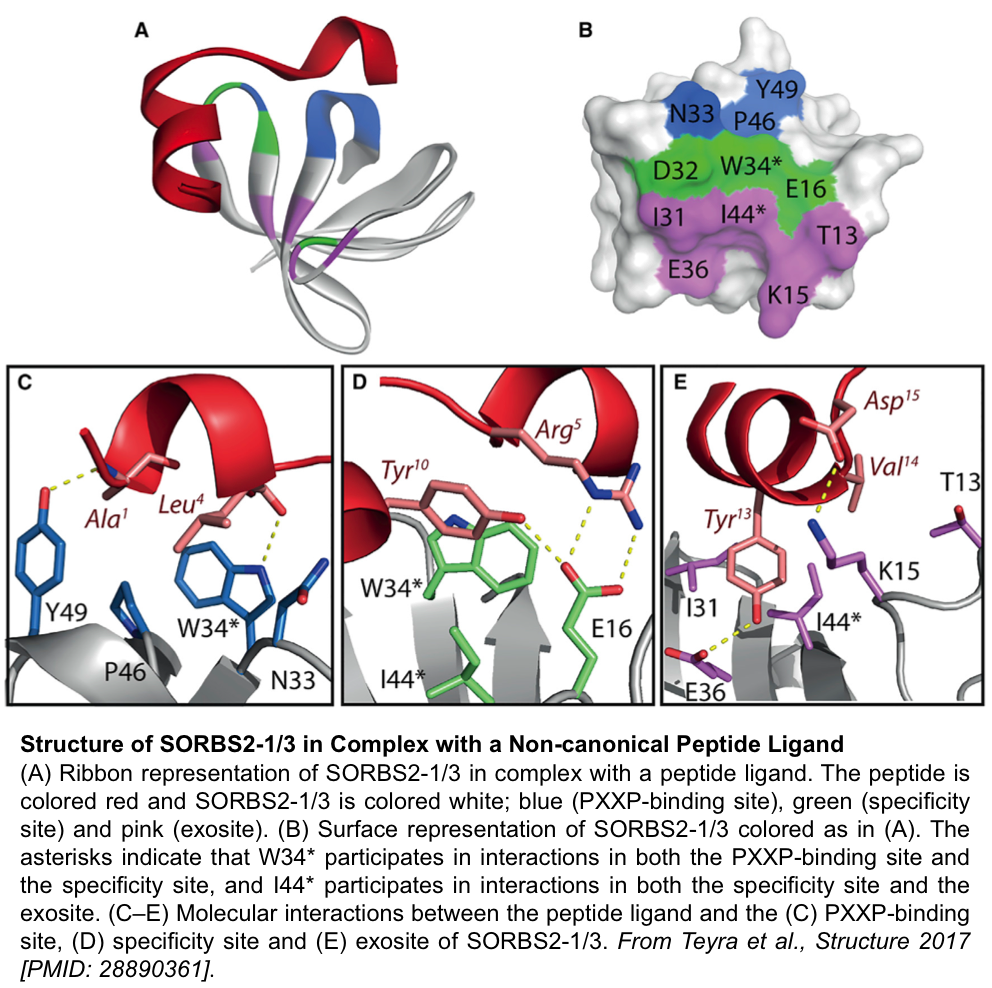 September 2017. A study led by Sidhu lab research associate Dr. Joan Teyra, and recently published in the journal Structure, uncovers non-canonical specificity profiles for SH3 domains. In line with previous Sidhu lab studies on peptide recognition modules (PRM) carried out with PDZ and WW domains, the current study presents a comprehensive specificity map for 115 SH3 domains, obtained by a newly developed technology that employs peptide phage display and deep sequencing analysis (in collaboration with Donnelly Centre Computational Biologist Dr. Gary Bader). The data highlight that amino acids in the vicinity of the canonical proline-rich ("PxxP") motif contribute to binding and that many SH3 domains bind to non-canonical motifs. In this regard, the crystal structures of two SH3 domains binding non-canonical peptides reveal novel binding modes. The study contributes to a deeper understanding of SH3 domains, which participate in many eukaryotic signal transduction events that may be deregulated in diseases such as cancer. It also expands the range of partners that can be predicted to bind SH3-containing proteins.
The broad significance of this study was recently highlighted in the Donnelly Centre News.
UPDATED - Dr. Sidhu highlights the high contribution of academic research in drug development
In June 2015, Dr. Sidhu was interviewed for the CBC news item "Spotlight on Alexion's pricing of rare-disease drug Soliris" as an expert in the process of developing antibody-based drugs. Dr. Sidhu highlighted the fact that a large part of the research required to develop a drug is performed in academic labs funded by public money, and that the real cost of drug development should therefore be more transparent. The news item was about the high cost of the antibody drug "Soliris", and how that cost is based on what the market can bear, rather than on the real cost of developing the drug. Watch Dr. Sidhu's appearance on CBC's The National here.
In June 2017, Dr. Sidhu was interviewed by Anna Maria Tremonti on CBC radio's The Current to discuss orphan drugs and drug pricing, in the context of Soliris. The program featured a patient who greatly benefits from taking Soliris, but had to jump through many hurdles to be approved for help in funding this extremely onerous drug ($750,000/y at the required dose). Dr. Sidhu highlighted the fact that we as the public, should be better informed about what justifies such high pricing, when the costs of producing antibody drugs has substantially decreased in the last few years thanks to new technology. He also highlighted the fact that academic institutions, whose research greatly contributes to knowledge used for drug development, have to do a better job of translating that knowledge into health solutions themselves, rather than relying on pharmaceutical companies whose primary goal is to increase profits. Read more about that story here or hear the full interview (Dr. Sidhu's segment starts at 07:15).
In September 2017, Canada's Patented Medicine Prices Review Board announced that Alexion Pharmaceuticals, the maker of Soliris, would have to lower the drug price, as reported by CBC News.
Sidhu lab graduate student Greg Martyn receives Yip Award
August 2017. Graduate student Greg Martyn is one of the recipients of the 2017 Cecil Yip Doctoral Research Award granted by the Donnelly Centre (University of Toronto) to students who conduct innovative and highly collaborative work that crosses formal disciplinary boundaries.
Greg is working on a project aimed at the development of a general method to enhance SH2 domain binding affinity and is co-supervised by Dr. Mike Moran (SickKids Research Institute). The project was started as part of a CIHR-funded collaboration between the Sidhu and Moran groups to predict and profile peptide recognition domains, specifically pertaining to in-depth studies of SH2 domains and the determinants of phosphotyrosine binding. This project yielded a high profile publication in Proteomics to which Greg contributed (Tong, J., Cao, B., Martyn, G. D., Krieger, J. R., Taylor, P., Yates, B., Sidhu, S. S., Li, S. S. C., Mao, X. & Moran, M. F. (2016) "Protein-phosphotyrosine proteome profiling by superbinder-SH2 domain affinity purification mass spectrometry, sSH2- AP-MS". PMID: 27880036).
Greg's current project will continue this stream of investigations to create phosphotyrosine "superbinders" utilizing our libraries of synthetic peptides as well as the mass spectrometry expertise of the Moran laboratory.
Congratulations Greg!
Protein-engineered ubiquitin variants designed in the Sidhu lab may lead to new treatments for deadly viral infections

May 2017. In a study recently published in PLoS Pathogens, Dr. Sidhu and colleagues describe how they applied ubiquitin variant (Ubv) technology to create anti-viral compounds.
The Ubv technology consists of screening phage-displayed libraries of ubiquitin variants against a ubiquitin-binding target of interest to obtain Ubvs that have high affinity and specificity for the target. By displacing wild type ubiquitin from the target, the Ubv can modulate its function. Given the increasingly recognized role of ubiquitin in affecting biological processes, Dr. Sidhu's group first focused on generating Ubvs for many enzymes of the human Ubiquitin Proteasome System.
In this study, led by senior post-doctoral fellow Dr. Wei Zhang, the group collaborated with viral biology experts Dr. Marjolein Kikkert (Leiden University Medical Center) and Dr. Brian Mark (University of Manitoba) to target viral ubiquitin-binding enzymes. Many viruses encode deubiquitinases (DUBs, enzymes that remove ubiquitin from proteins) that are crucial for viral replication and pathogenicity. Dr. Zhang generated Ubvs that specifically bind DUBs of the MERS virus and inhibit their function. The study demonstrates that the Ubvs can act as potent anti-viral agents. Once coupled to an efficient delivery system, Ubvs could thus become novel effective drugs against many viruses that depend on ubiquitin-binding enzymes.
Read a news feature on this story on the Donnelly Centre website.
Sidhu lab receives new funding from a Terry Fox Research Institute's Program Grant to design novel brain cancer therapies
April 2017. Dr. Sidhu, together with Dr. Jason Moffat (University of Toronto) and Dr. Sheila Singh (McMaster University) were recently awarded a prestigious Terry Fox Research Institute (TFRI) New Frontiers Program Project Grant to develop antibody-based therapies for brain cancer (glioblastoma, or GBM).
The Program includes several Core platforms, one of which is the Toronto Recombinant Antibody Centre (TRAC) that will generate antibody candidates to be tested in GBM models. The project will also benefit from the IgG production capabilities of the Centre for the Commercialization of Antibodies and Biologics (CCAB).
The Core platform was recently featured in a blog post by TFRI. Read it here.


Dr. Sidhu awarded Genome Canada Disruptive Innovations in Genomics Grant
December 2016. Dr. Sidhu, along with colleagues Dr. El Bachir Affar from Université de Montréal and Dr. Roman Melnyk from SickKids Research Institute, have been awarded a Genome Canada Disruptive Innovations in Genomics (DIG) 3-year grant for their project entitled "Synthetic inhibitors of ubiquitin-binding cancer targets". The grant will support the development of ubiquitin variants as inhibitors of cell signaling and potential cancer drugs. The project is jointly supported by Ubiquitech, a recently launched Toronto biotech company that specializes in the validation, production and commercialization of ubiquitin variants as research reagents and biotherapeutics, and by matching institutional and industrial partners. Read Genome Canada's press release here.
Postdoctoral Fellow Dr. Gino Gallo awarded 2016 Charles H. Best Fellowship
August 2016. Dr. Eugenio (Gino) Gallo joined the Sidhu lab in April 2015 after completing a PhD at Carnegie Mellon University. In his current project, Gino is developing synthetic antibodies to integrin receptor proteins as tools to study how integrins contribute to cancer development. The antibodies may also ultimately be candidate biologic drugs to fight cancer. Gino was recently awarded the prestigious 2016 Charles H. Best Postdoctoral Fellowship that each year, supports one outstanding scientist to undertake a project at the Donnelly Centre. Read more about Gino's project here. Congratulations Gino!
The Hon. Elizabeth Dowdeswell, Ontario's Lieutenant Governor, visits the Sidhu lab
May 18, 2016. Dr. Sidhu and members of the Sidhu lab were excited to showcase our research to the Honourable Liz Dowdeswell. Her Honour was at the University of Toronto on her first official visit for an event celebrating youth and innovation. Dr. Sidhu and graduate student, Max London, discussed some of the innovative technology that is used at TRAC and the potential impact on Ontario's healthcare.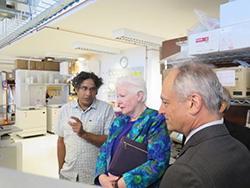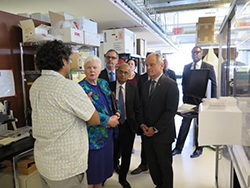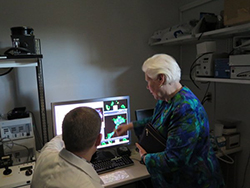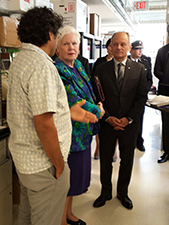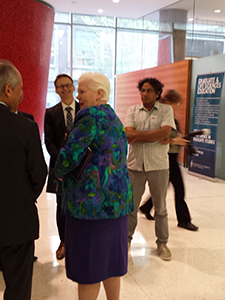 Sidhu lab ubiquitin variant platform yields new and effective modulators of HECT E3 ligases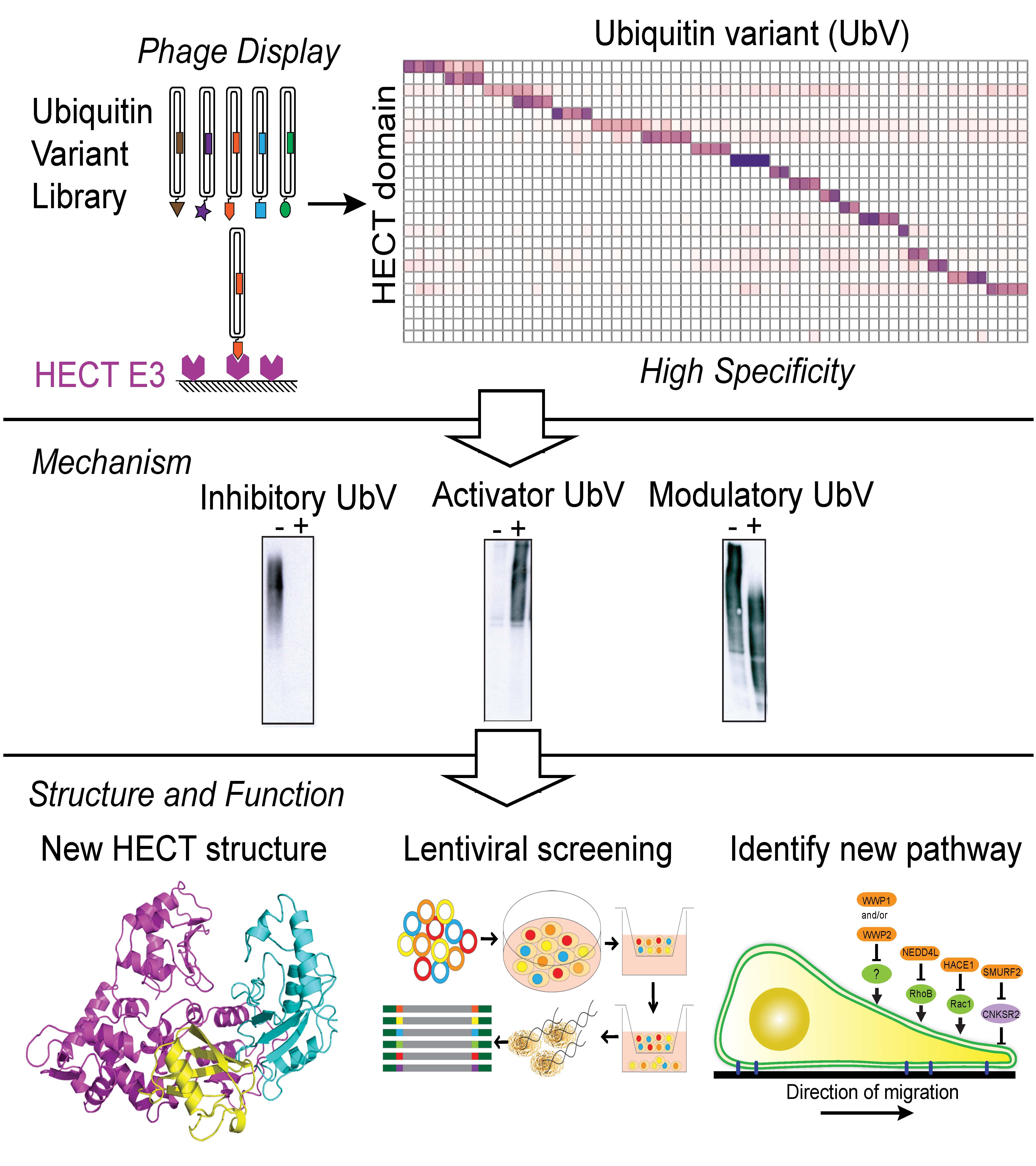 March 2016. Building on the high throughput synthetic antibody generation pipeline of the TRAC, the Sidhu group is using phage-displayed libraries of small protein variants to generate biologically active modulators of protein function. Libraries of variants based on the ubiquitin scaffold were screened against ubiquitin-binding enzymes, and high affinity ubiquitin variants (Ubvs) were identified (see original study published in Science, led by post-doctoral fellow Andreas Ernst, now a group leader at Goethe-Universität Frankfurt). These Ubvs are capable of modulating the function of their cognate proteins with high potency and specificity.
The new study, published in Molecular Cell and led by CIHR and MITACS Elevate postdoctoral fellow Wei Zhang, together with the collaborating labs of Brenda Schulman, Jason Moffat, Daniela Rotin and Wade Harper, details the characterization of Ubvs targeting HECT E3 ubiquitin ligases that act as both inhibitors and activators of protein function (Zhang et al., "System-wide modulation of HECT E3 ligases with selective ubiquitin variant probes"). Functional and structural studies reveal novel modes of enzyme regulation by Ubvs and biological studies indicate that the Ubvs effectively modulate therapeutically relevant targets. This work demonstrates the versatility of Ubvs for modulating enzyme activity across a family of enzymes, defines mechanisms of action and provides a toolkit for probing enzyme function in an area where modulators were severely lacking until now. It also establishes a general strategy for the highly efficient, systematic development of modulators targeting families of signaling proteins. This strategy is being applied further to other ubiquitin-binding enzymes and also being extended to other small protein scaffolds.
Pharmaceutical giant Celgene injects major funds into academic synthetic antibody research and development
September 2015. The pharmaceutical company Celgene has indicated its intense interest in the development of biologics, notably synthetic antibodies, in the form of a US $25 million sponsorship of the Recombinant Antibody Network (RAN). The RAN, a consortium of US- and Canada-based academic labs dedicated to the development of synthetic antibodies with therapeutic applications, was founded Dr. Sidhu and Drs. Anthony Kossiakoff (UChicago) and Jim Wells (UCSF). The Celgene collaboration will focus on the development of therapeutic antibodies for cancer, inflammation and immunological disorders. "Through this partnership, we are taking a giant step forward in the ultimate goal of the RAN: the systematic targeting of the "extra-cellularome," the cell-surface proteins that control cancer and other diseases", says Dr. Sidhu. "In the future, we envision that we will be able to precisely target cancer cells at the molecular level, which will provide better therapies for patients". Read the press releases here and here.
University of Toronto's "Medicine by Design" the recipient of a prestigious CFREF grant
In July 2015, the "Medicine by Design" initiative from the University of Toronto received $114 million in funding from the Government of Canada's Canada First Research Excellence Fund (CFREF). This initiative will incorporate new technologies and scientific strategies into the University of Toronto's regenerative medicine programs, and develop local capacity for manufacturing rapid lab-to-patient technologies that allows Canada to lead the transformation of the global medical industry and become a major international supplier of regenerative medicine technologies. Outstanding scientists at the University of Toronto and affiliated centres and hospitals will participate, including Dr. Sidhu and the Centre for the Commercialization of Antibodies and Biologics (CCAB) he directs. Learn more about Medicine by Design and read the CFREF and University of Toronto press releases.
Drs. Sidhu & Affar receive funding from CQDM/OCE to support ubiquitin variant development
In June 2015, Dr. El Bachir Affar (from the Université de Montréal's Research Centre of the Hôpital Maisonneuve-Rosemont) and Dr. Sidhu secured funding from the CQDM-sponsored "Explore" program, co-sponsored by the Ontario Centres of Excellence. The two-year grant will support the development of variants of ubiquitin (Ubvs) capable of modulating the activity of ubiquitin-binding enzymes. These Ubvs will be invaluable reagents to probe the function of target enzymes and, since many of these enzymes are deregulated in disease, may also serve for the development of therapeutics. Read the CQDM press release here.
Dr. Sidhu wins prestigious Protein Society Award
In February 2015, Dr. Sidhu was awarded the Protein Society's 2015 Christian B. Anfinsen Award that recognizes technological achievement or significant methodological advances in the field of protein science. Read the UofT interview with Dr. Sidhu about the significance of the Award for his research here.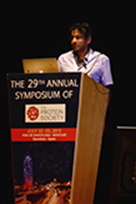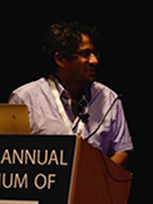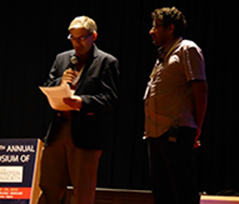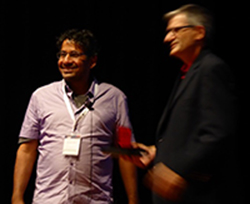 Northern Biologics: Bringing academic discoveries one step closer to patient therapies
In December 2014, a team of scientists from the University of Toronto and University Health Network, including Dr. Sidhu, launched Northern Biologics, an innovative biotechnology company where antibodies first discovered in academic laboratories will be further developed into therapeutic antibodies for the treatment of cancer and fibrosis. The launch received extensive coverage, including in the Globe and Mail (download article) and Yahoo finance. Read the UofT press release here. Most recently, Northern Biologics announced a strategic collaboration with Celgene, a large biotechnology company that manufactures drug therapies for cancer and inflammatory disorders.
Launch of the
The Centre for the Commercialization of Antibodies and Biologics (CCAB), a new Centre of Excellence for Commercialization and Research (CECR) funded by the Government of Canada (see CCAB on NCE website), was launched in December 2014 (view launch event from the Faculty of Medicine). Headed by Dr. Sidhu, the Centre will translate the research discoveries of TRAC and other academic labs into commercial ventures. Read about how the CCAB will tie in with the philosophy of the Donnelly Centre. Download the press release from the Networks of Centres of Excellence.
Visit by the Honourable Ed Holder, Minister of State (Science and Technology) - October 16th 2014
The TRAC team, along with collaborator Dr. Benjamin Neel and members of the Faculty of Medicine Dean's Office were pleased to welcome Minister Holder for a visit to the Donnelly Centre. He was given a tour of the lab and demonstrations of some of the technology and high-throughput equipment used by the TRAC in the production of synthetic antibodies. An update on TRAC success was given by Dr. Pan and Dr. Neel and Pankaj Garg, Megan McLaughlin, Max London and Isabel Leung led demonstrations.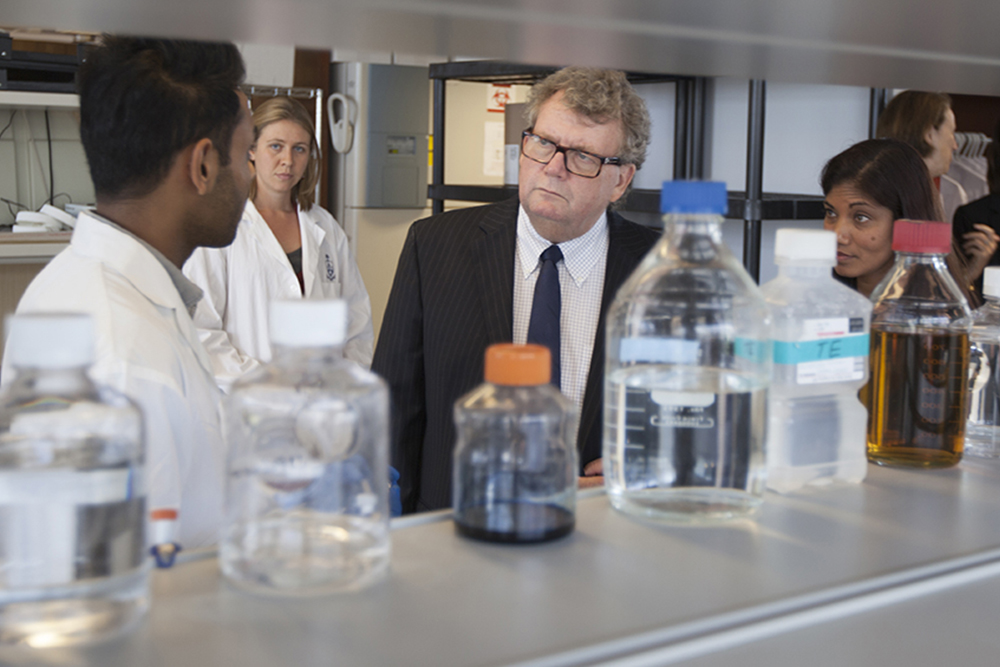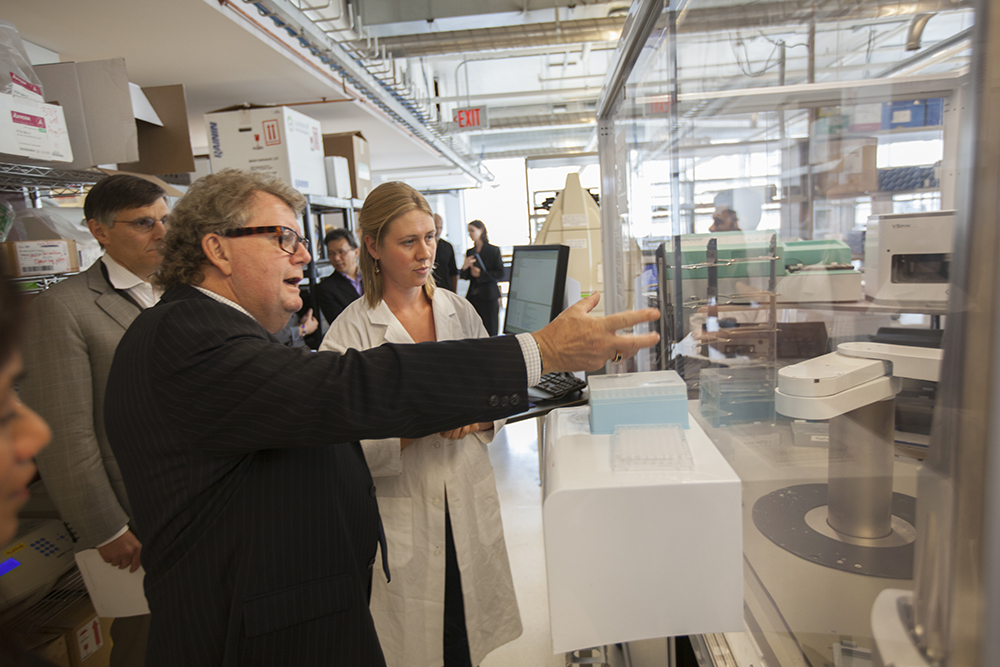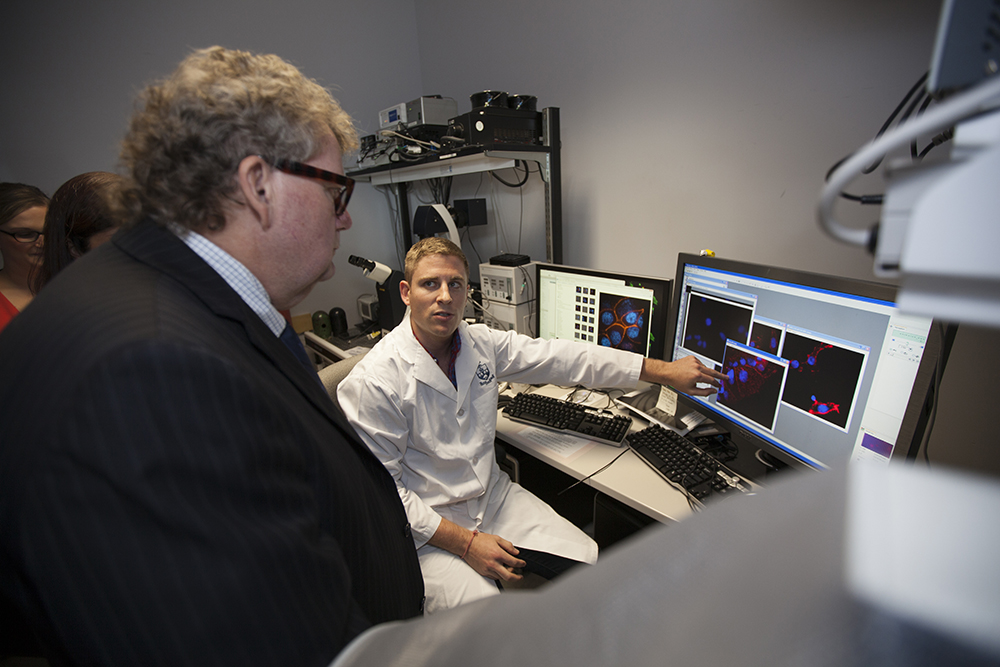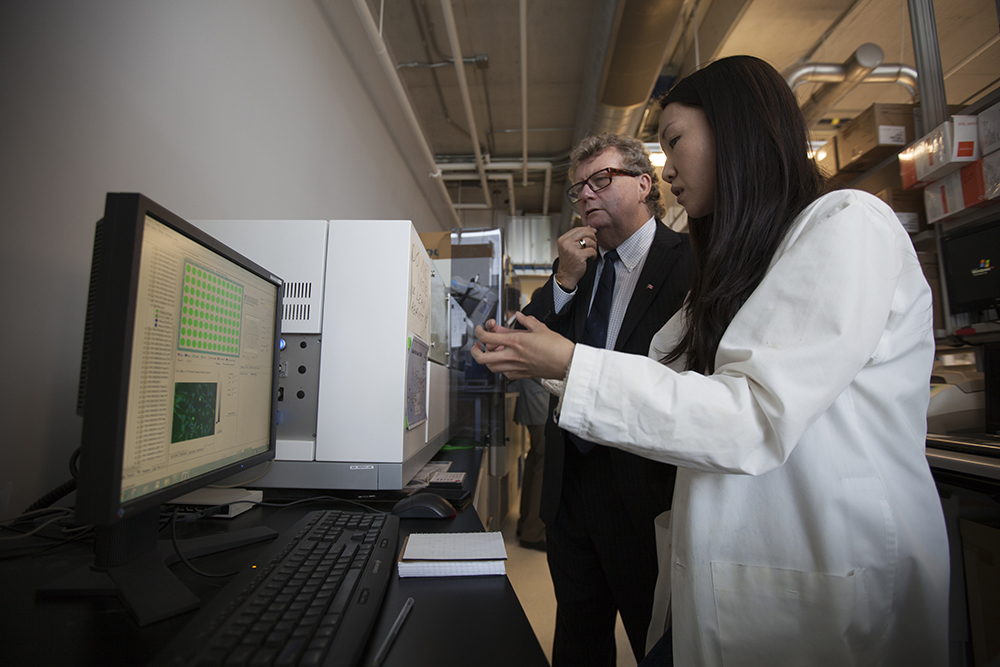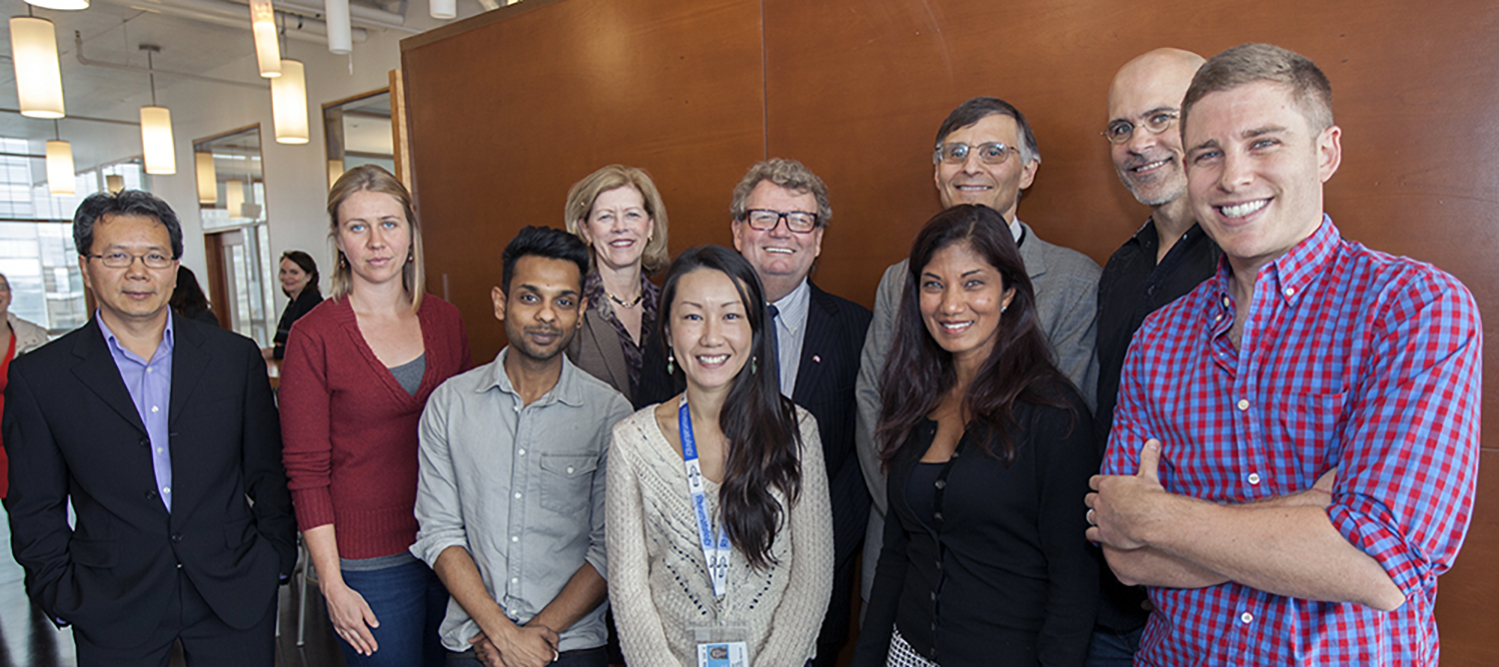 Youth Outreach, St. Basil-the-Great College School visit
On October 7th, 2014, we were pleased to welcome the students of St. Basil's Grade 12 Biotechnology Program to tour the Sidhu lab and the TRAC facilities. Students were given highlights of the research and technology in the lab from Dr. Jarrett Adams, Ms. Megan McLaughlin, and Ms. Isabel Leung.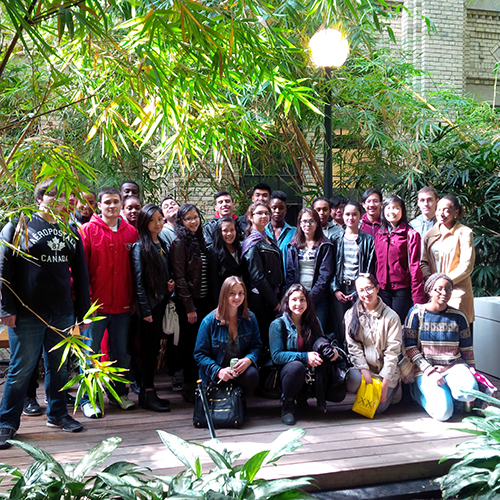 Protein Engineering Highlights
The Avacata Life Sciences blog recently named two papers from Dr. Sidhu to its top ten list of protein engineering papers that changed the world. The publications by Fellouse et al (2005) and (2006) are cited for having demonstrated that high-affinity binders (10nM range) could be selected from a library where CDRs are composed of only 2 amino acids. See the full top ten list here.
Ebola antibodies
A recent publication in ACS Chemical Biology by Dr. Sidhu and his collaborators at Albert Einstein College of Medicine and the United States Army Medical Research Institute of Infectious Diseases was noted as a potential therapy for future ebola outbreaks. The development of a humanized synthetic antibody to the Sudan ebolavirus (SUDV) was led by Dr. Gang Chen, a member of the TRAC scientific team. Although this is not the strain of ebolavirus currently devastating West African countries, SUDV is extremely lethal. Now that a human version of the antibody previously developed by the team (Koellhoffer et al, 2012) has been developed, a strong potential therapy exists for future outbreaks. Read the press release by the American Chemical Society here.
President of the University of Toronto visit, July 9th 2014
Dr. Meric Gertler, President of the University of Toronto, visited the Sidhu lab on his tour through the Donnelly Centre on July 9th. Dr. Misquitta and members of the Sidhu lab and the TRAC team were delighted to be able to provide a tour of their facilities and share their research with Dr. Gertler and a number of senior administrators.
Kolltan Pharmaceuticals licenses TRAC-developed antibodies, announced December 6th, 2013
Novel anti-KIT receptor antibodies recently developed at TRAC with collaborator Dr. Joseph Schlessinger, were licensed by Kolltan Pharmaceuticals. It is expected that, in addition to possible therapeutic applications, the antibodies will be essential tools for structural biologists. The work in Dr. Sidhu's lab was led by Dr. Bryce Nelson (read on PNAS.org). See the Koltan press release here.