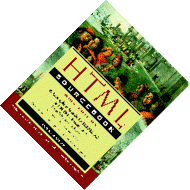 The HTML Sourcebook
Third Edition
by Ian S. Graham
ISBN 0-471-17575-7
Example Documents, Corrections, Updates and Supporting Material
NOTE: Newer Editions of this Book are Available: See Below
---

On This Page: Introduction ~ Site Content ~ Support ~ Problems?

---
Welcome to the support Web site of The HTML Sourcebook: A Complete Guide to HTML, Third Edition. This site contains all the HTML and program code examples from the book, corrections and updates to the book, and also additional supporting material not found in the book. It's better than a CD-ROM -- it is more up-to-date, and cheaper too!

NOTE: Newer Editions Available
This book has been rewritten, and is available as the HTML 4.0 Sourcebook, published in 1998, and the XHTML 1.0 Language and Design Sourcebook, published in March of 2000. If you are looking for an up-to-date book (and supporting Web site), please try one of these books.

For a complete listing of all the books I have written, please visit www.utoronto.ca/ian/books.

Want more information? -- To find out more about the book, visit the book overview, which outlines the content of the book's 12 Chapters and 5 Appendices.
To proceed, visit the Site Contents page, which lists all the material available at this site. Most of this content is available as an archive file that you can download and install on your own machine. Please visit the archive downloading page for more information.
This Web site contains supporting material not avaialable in the printed book. This includes a long list of of MIME types, a description of defined REL/REV values, and also a glossary of important Web- and Internet-related terms. Please visit the Site Contents page to see a complete list of these additional resources.
If you have encounter a problem at this Site, or have any questions, please send me mail at ian.graham@utoronto.ca. I get a lot of mail, so I can't promise to answer everybody, but I will try and do so, and will correct and update these pages as soon as I can.
---
The HTML Sourcebook -- 3Ed
© 1995, 1996, 1997 by Ian S. Graham
Page Last Updated: 2 February 1997