Upcoming events
Being Poland Book Launch: How to Write Literary History in the 21st Century?
November 13 (Tuesday), 2018, Father Madden Hall, 6pm
We are proud to present Being Poland: A New History of Polish Literature and Culture after 1918.This volume is a monumental intellectual and pedagogical project undertaken by Prof. Tamara Trojanowska and her colleagues, Prof. Joanna Niżyńska (IU) and Prof. Przemysław Czapliński (UAM), involving over 60 scholarly contributions from all over the world. The book launch featured a discussion panel with the editors and contributors  on the question of how (and for whom) to write literary and cultural histories in the 21st century. 
St. Andrew's Eve - Andrzejki!
November 28 (Wednesday), 2018, Alumni Hall 404, 7pm
Who was St. Andrew? Who was St. Katherine? What awaits you in the upcoming year? Love, fortune, career, or maybe a convent? We invite you to find out what future has in stock on this magical evening of divination during the traditional Polish holiday known as Andrzejki (St. Andrew's Eve)! Snacks and refreshments will be provided.
Christmas Eve with the Polish Program - Wigilia z Polskim Programem!
December 6 (Thursday), 2018, Alumni Hall 404, 6:00 pm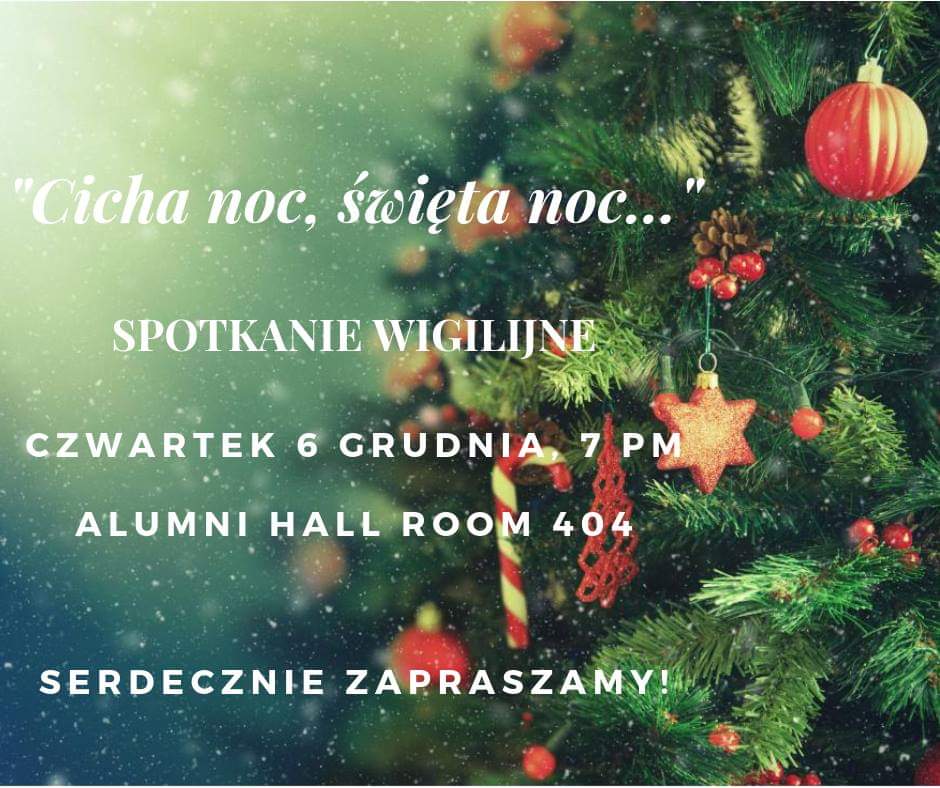 A special meeting of all our students where you will have a chance to experience the Polish tradition of Christmas. We will sing carols, relax, and feast on the most delicious sampling of Polish holiday cousine! Feel free to invite your friends! This will be a wonderful occasion to catch a breath before and say goodbye to the Fall semester!
Spotkanie z polskim kinem: "Najlepszy", 2017, reż. Łukasz Palkowski
September 26 (Thursday), 2019, Alumni Hall 404, 7:00 pm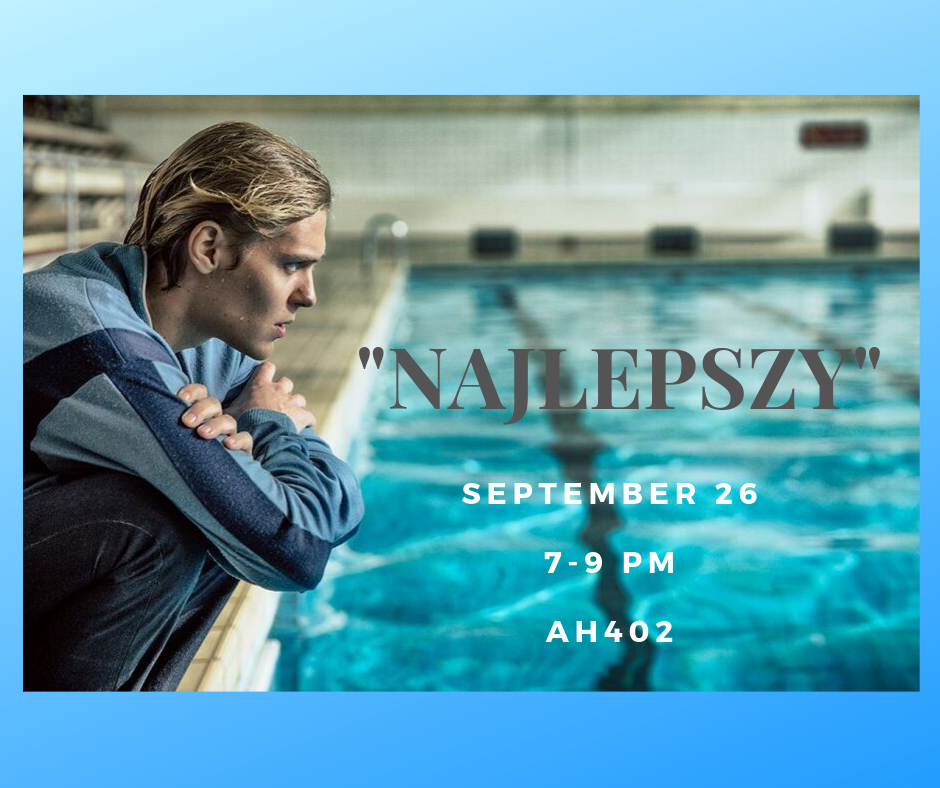 Film inspirowany jest historią życia Jerzego Górskiego, byłego narkomana, który po wygranej ciężkiej walce z nałogiem został sportowcem, zdobył m.in. tytuł mistrza świata w triathlonowych zawodach Double Ironman w Stanach Zjednoczonych. Przedstawione zostają losy dwóch związków Jerzego, z narkomanką Grażyną, która zostaje matką jego dziecka oraz z lekarką Ewą, dzięki której rozpoczyna leczenie. W trakcie pobytu w ośrodku odwykowym bohater poznaje m.in. Marka Kotańskiego. Jerzy postanawia odmienić swoje życie, za cele stawia sobie sport oraz możliwość kontaktu z córką.
Spotkanie z uczniami Polskiej Szkoły przy Konsulacie RP w Toronto
October 26 (Saturday), 2019, Alumni Hall, 10 am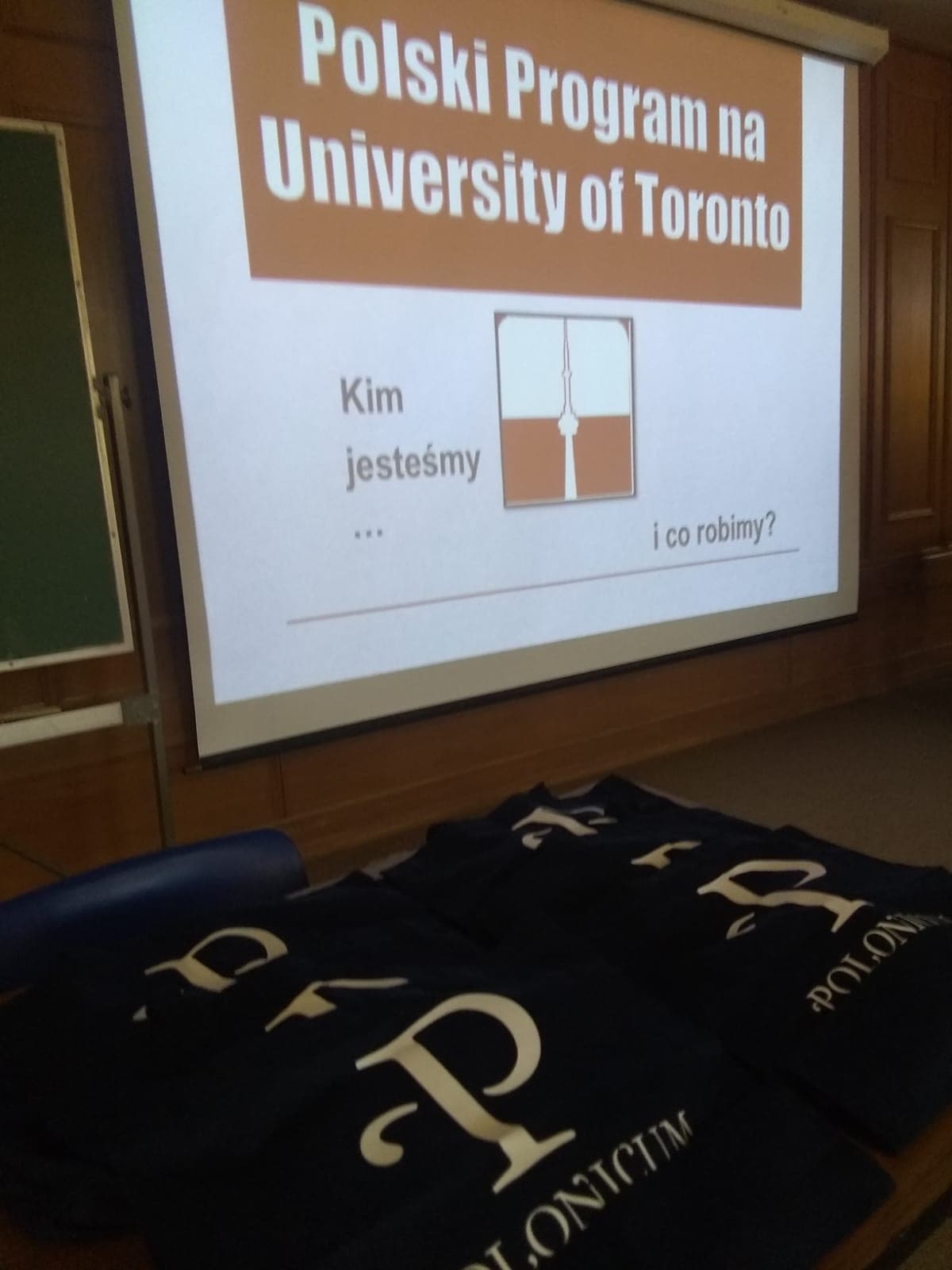 Zapraszamy do wzięcia udziału w spotkaniu z uczniami Polskiej Szkoły przy Konsulacie RP w Toronto. Nasi goście dowiedzą się, co to jest Polish Program UofT, jak wyglądają lektoraty języka polskiego i zajęcia z literatury i kultury polskiej. Będą mogli zadawać pytania instruktorom i studentom. Zapraszamy do opowiadania o Waszych doświadczeniach związanych z nauką języka polskiego na UofT.
Transformations of the Mind: Technology and the Future of Creativity" A conversation with Jacek Dukaj
October 30 (Wednesday), 2019, Father Madden Hall, St. Michael's College, 100 St. Joseph St.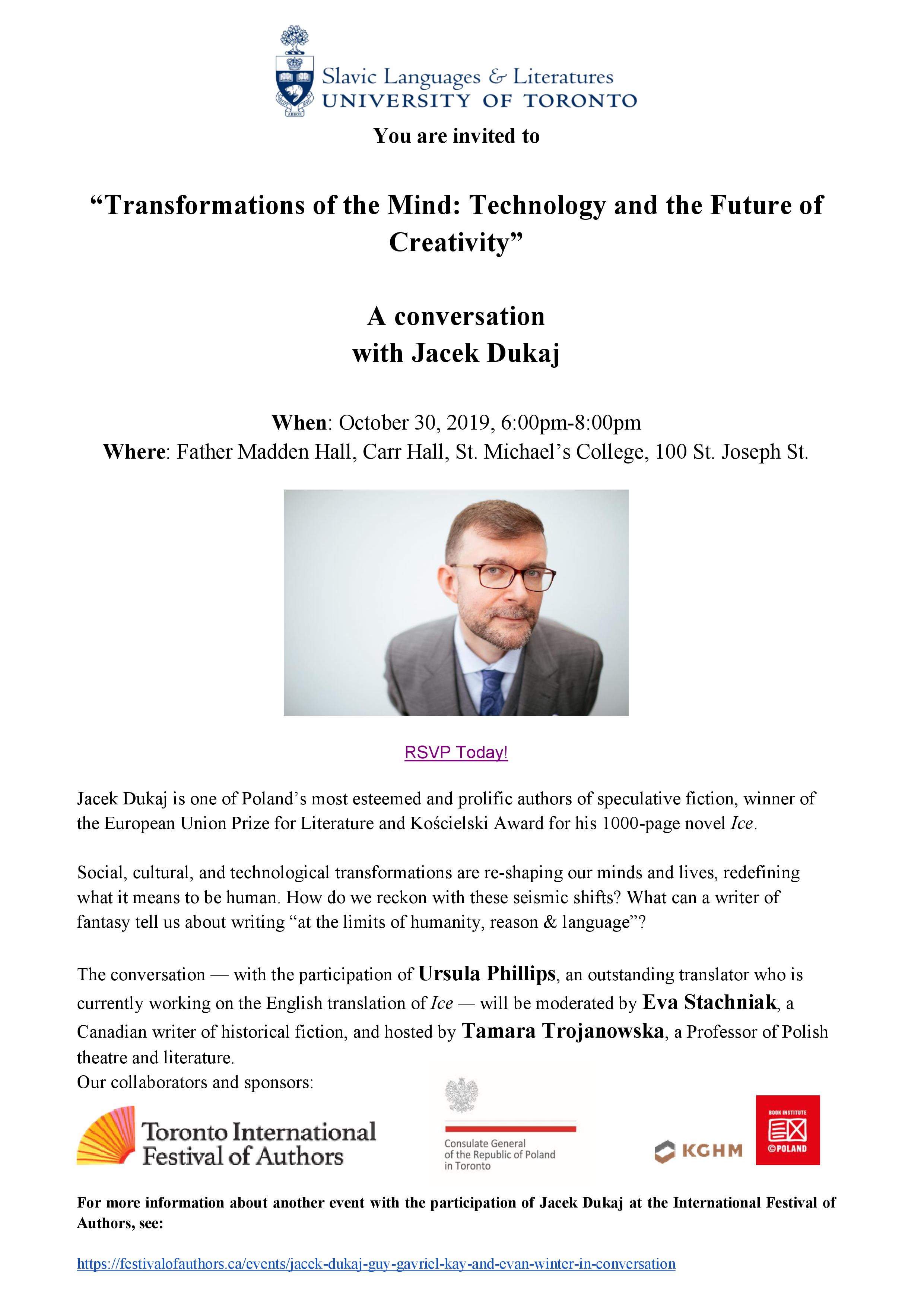 Jacek Dukaj is a Polish writer and author of novellas, short stories and essays. He's a worldbuilder, storyteller and idea man who—at the limits of humanity, reason and language—practices his art of the great narrative and immersive fiction. He was born in 1974 and lives in Cracow, Poland. Supported by Consulate General of the Republic of Poland in Toronto.
Dziady: polskie Halloween. Warsztaty plastyczno-literackie
October 24 (Thursday), 2019, Alumni Hall 404, 7 pm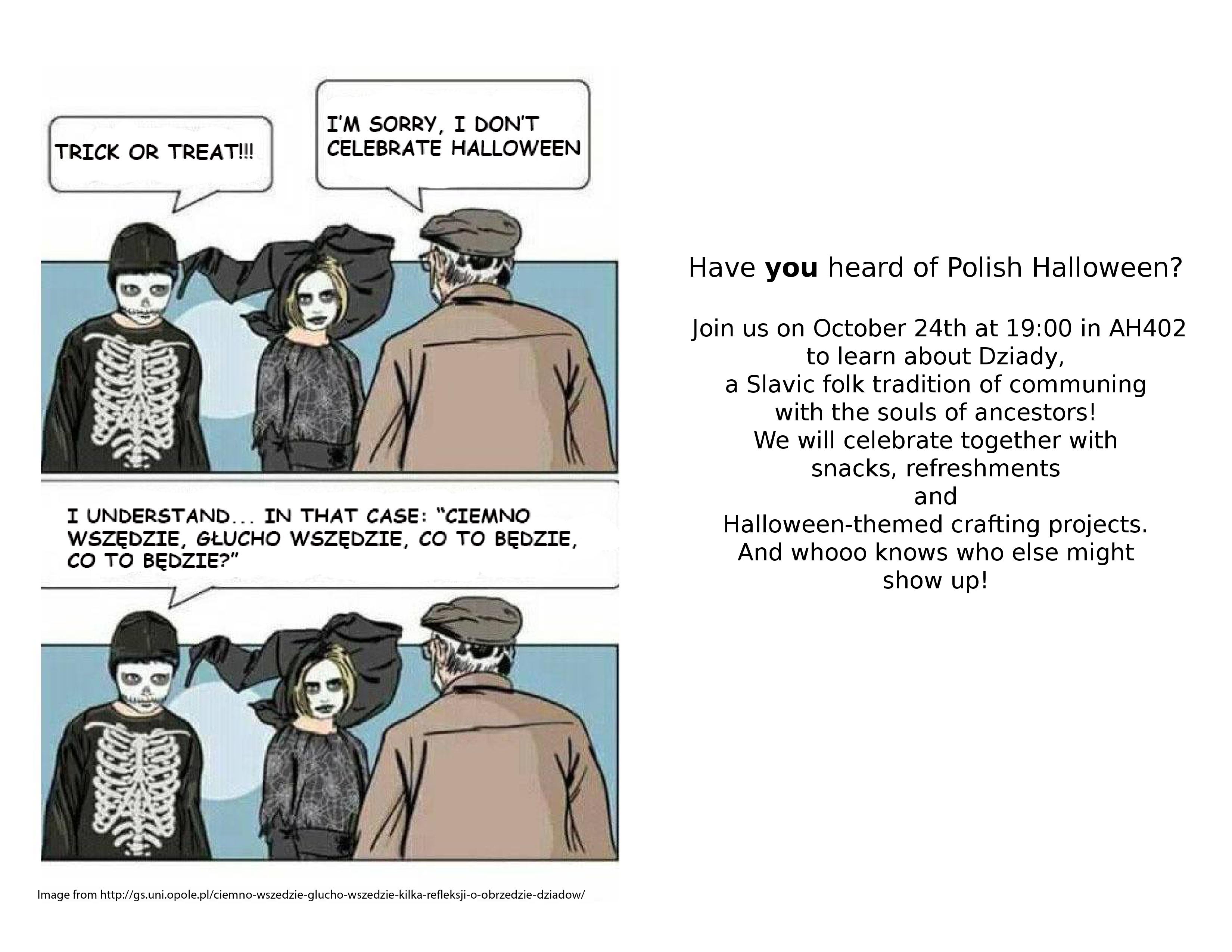 Zapraszamy na magiczne spotkanie poświęcone starożytnej słowiańskiej tradycji zwanej "dziadami". Zabawa z polską poezją, plakatem i sztuką, w wyniku której powstanie wasz własny halloweenowy projekt!
Andrzejki, katarzynki – warsztaty kulturowe
November 28 (Thursday), 2019, Alumni Hall 404, 7 pm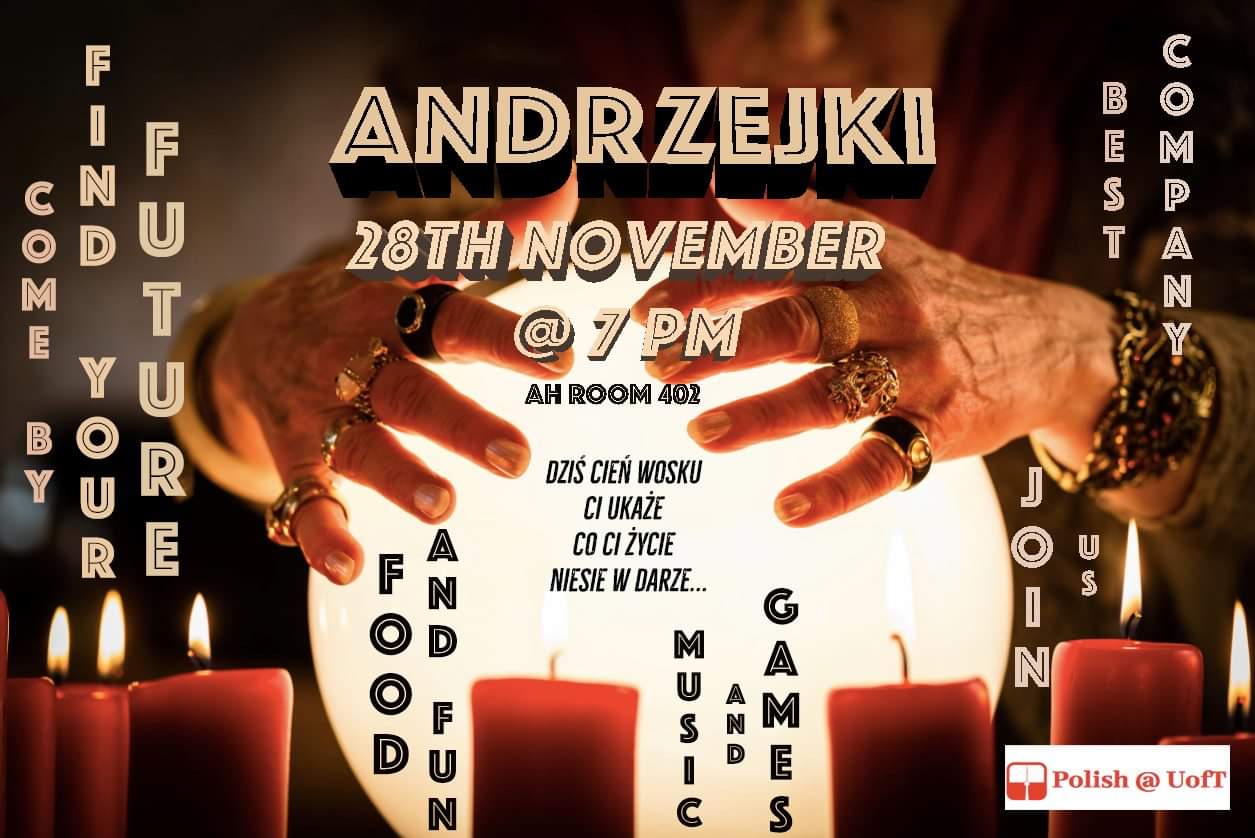 Kim był święty Andrzej? Kim była święta Katarzyna? Co Cię czeka w nadchodzącym roku? Miłość, szczęście, kariera, a może pójdziesz do zakonu? Zapraszamy na magiczny wieczór z wróżbami andrzejkowymi!
The Successes of Our Class (2009), or Why We Should Continue to Translate Polish Contemporary Drama. A talk by Professor Knut Andreas Grimstad (University of Oslo)
December 4 (Wednesday), 2019, Alumni Hall 107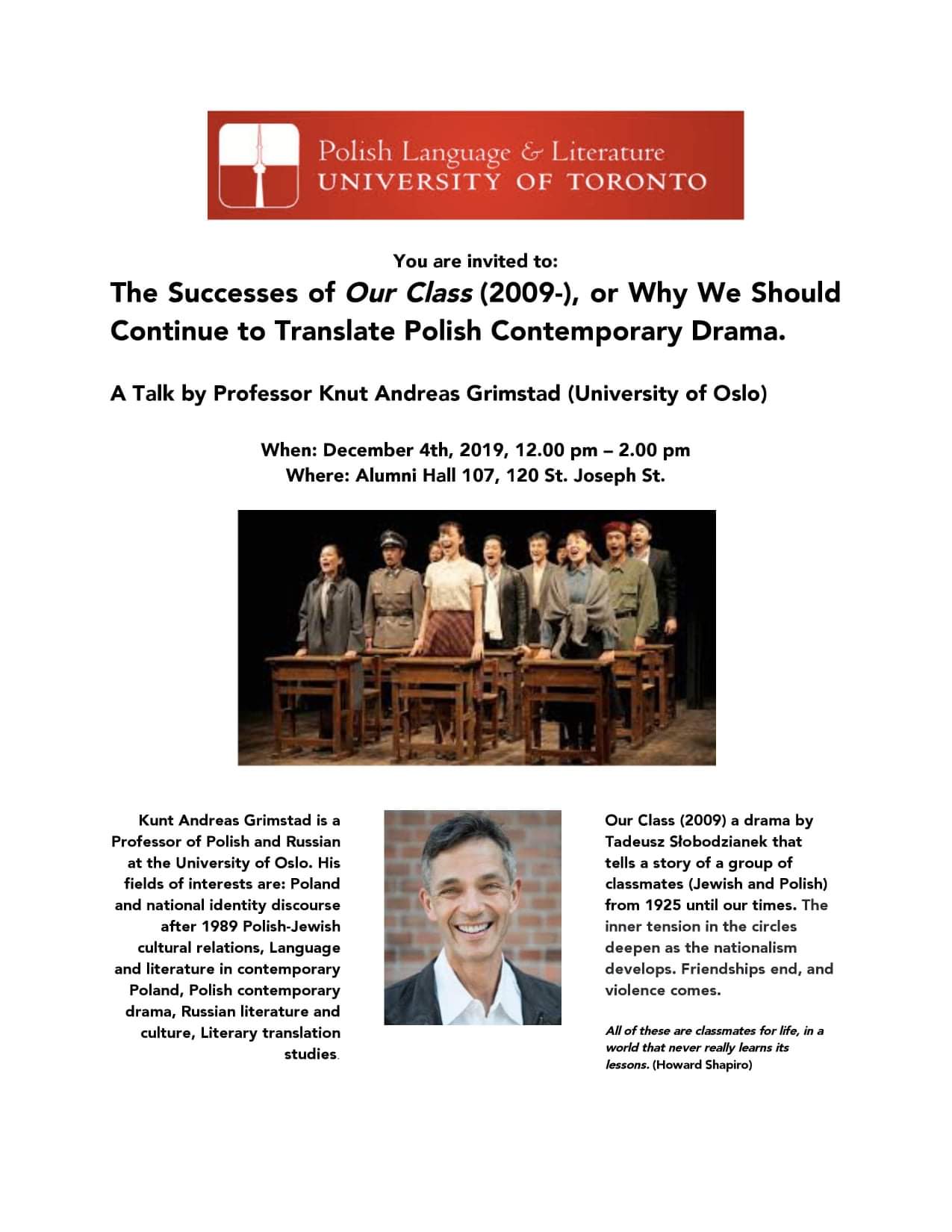 "Cicha noc, święta noc! …" Wigilia po polsku
December 4 (Wednesday), 2019, Alumni Hall 404, 7 pm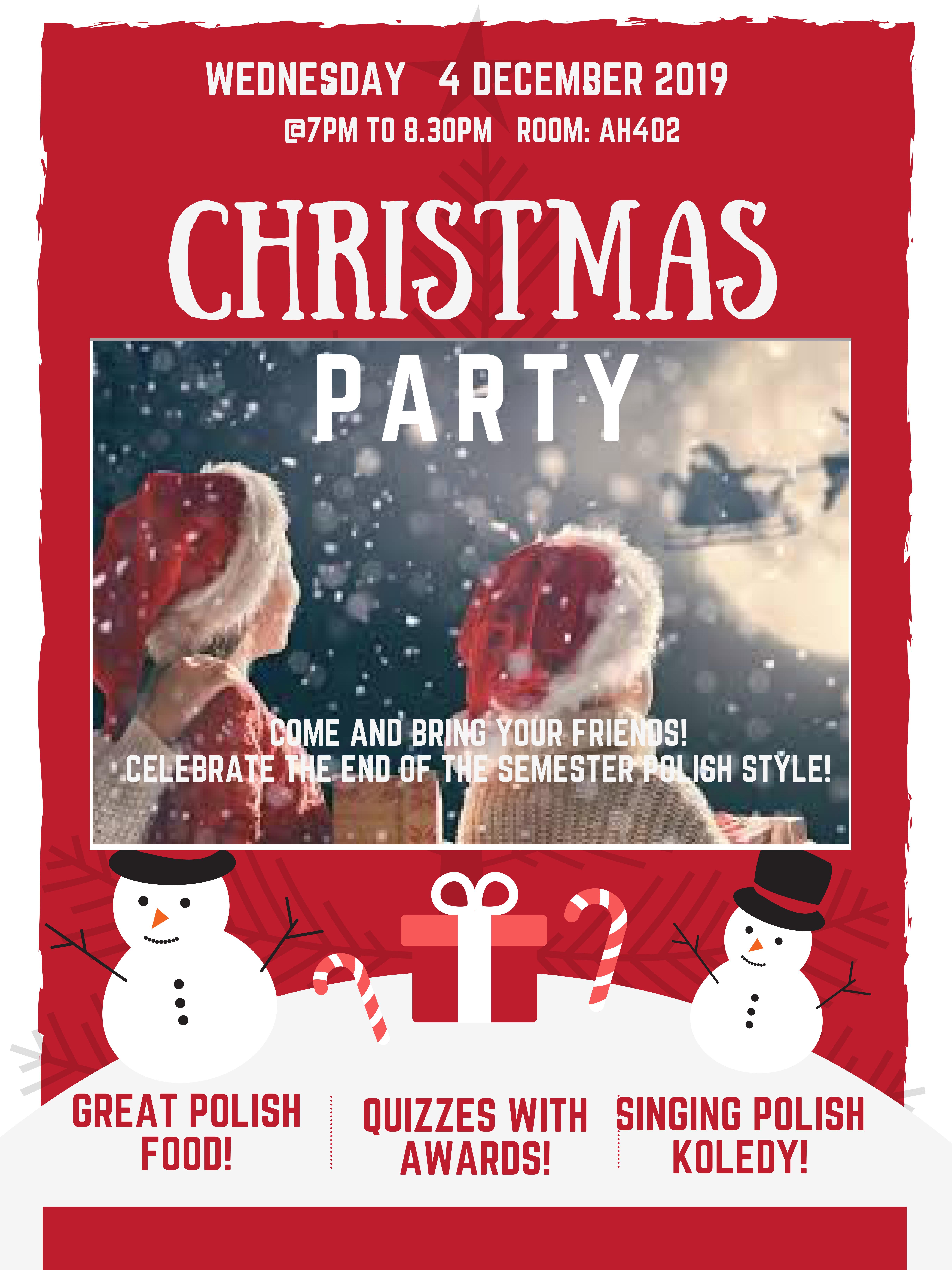 To kolejne magiczne spotkanie ze wszystkimi naszymi studentami. Zapoznacie się z polskimi tradycjami bożonarodzeniowymi, zaśpiewacie kolędy, ale także będziecie mogli spróbować tradycyjnych dań świątecznych. Wspaniały sposób na pożegnanie semestru! Zapraszamy serdecznie – Wesołych Świąt!
Wiedźmin – warsztaty kulturowe
January 22 (Wednesday), 2020, Alumni Hall 404, 7 pm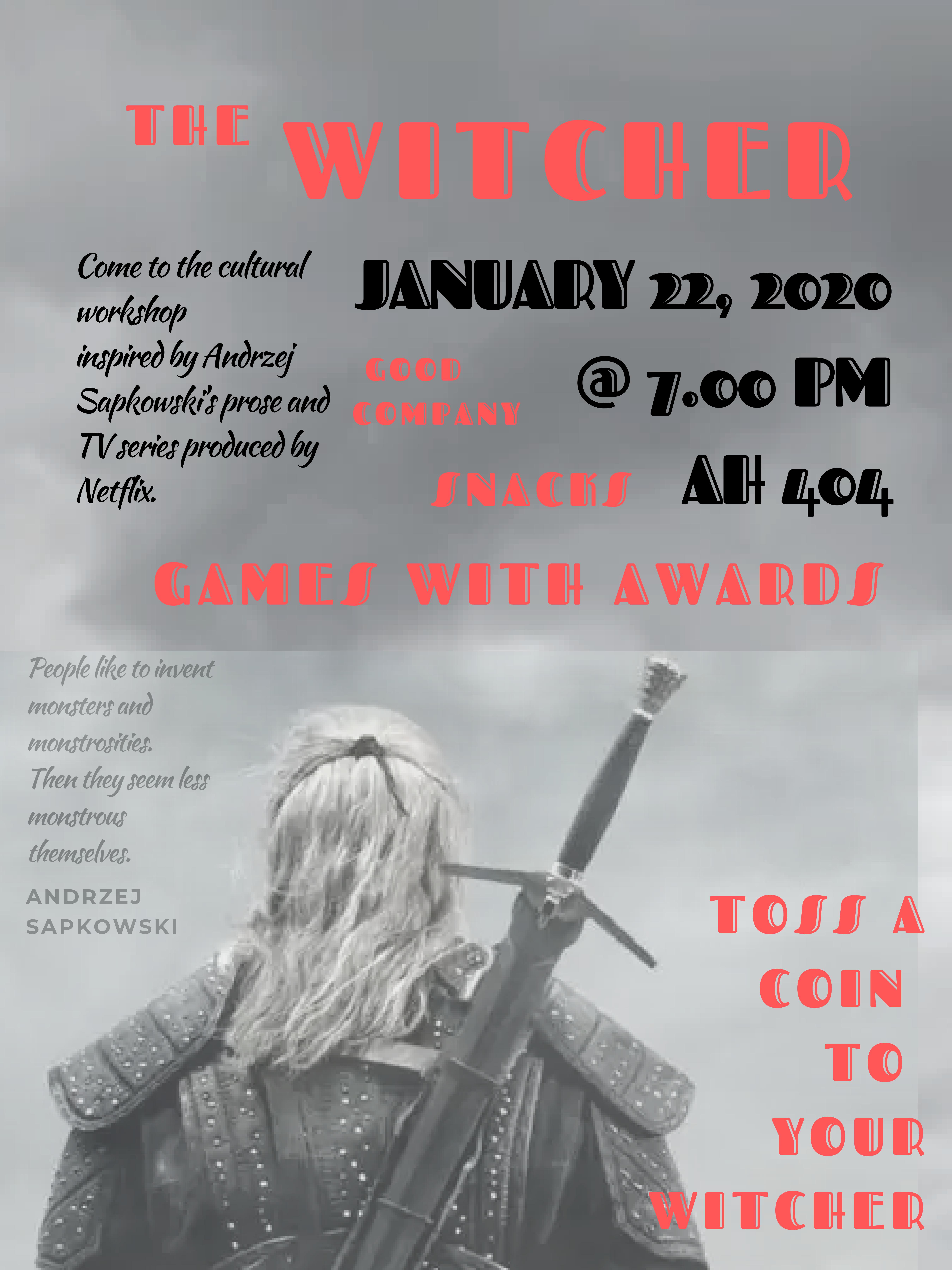 Zapraszamy na warsztaty kulturowe inspirowane serialem "Wiedźmin" (amerykańsko-polski telewizyjny serial fantasy, stworzony przez Lauren S. Hissrich na podstawie książek Andrzeja Sapkowskiego o wiedźminie Geralcie). W programie warsztatów konkurs z nagrodami.
---
Please click here for the full list of our events in the winter of 2020. You will also find these events marked in our Events Calendar: