Links
Social Science
Let's talk parenting taboos: Rufus Griscom + Alisa Volkman TED Talk
When working in the field of reproductive sciences we sometimes sit at the interface of science and society. Our work strives to help solve infertility and poor reproductive outcomes, but after that, how do parents raise a child?
In this inspiring talk from TED talks, Rufus Griscom and Alisa Volkman look at pregnancy and parenting to try to understand what are the social taboos that our society has placed around these topics. They then work to discuss these taboos as in the silence caused by taboo there is often pain and misunderstanding.
Our university
Our department
Our platform
Reproduction and Development Platform
The physiology department is organized into different research platforms.

Our institute
The Institue for Human Development
This is a very exciting cross departmental and cross discipline virtual institute to systematically study early pre-natal and post-natal development.
Our collaborators
Lee Adamson research group
Placenta biologist, beautiful work on placenta morphology.
Shannon Bainbridge research group
Placenta biologist, really knowledgeable on human placenta pathology.
John Kingdom research group
Clinician scientist, inspires me to do more for human health.
Thomas Kislinger
Rising star of the proteomics field and a long time collaborator.
Back to top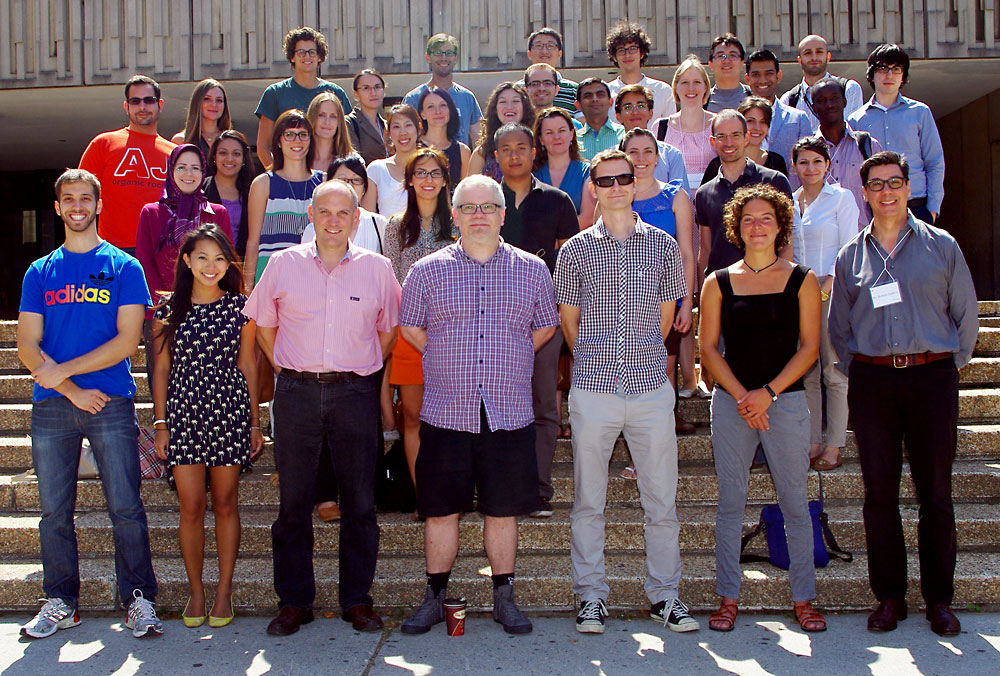 Photo by Robert Jankov
Student and staff participants in the University of Toronto and Karolinska Institute (Sweden) 16th Annual International Exchange Workshop in Developmental and Perinatal Biology. The course is held in Toronto or Stockholm in alternating years. Students participate in lectures on developmental physiology at their home institute and then attend the 1 week workshop at the hosting institute. Dr.Cox is third from right in the first row.
Back to top
Resources
UHN microarray centre
Fast reliable service, with the added benefit that it is across the road from our lab.

Research Centre for Women's and Infants' Health BIOBANK
They maintain a large well documented source of tissue for research, as well it is conveniently located across the road from our lab.
Preeclampsia Foundation
Great resource for patients and even researchers, who should try to understand the patient's perspective.

R
This puts statistics and data analysis into everyone's hands.

MySQL
Cause when you have a lot of data you need to put it somewhere, think Ikea storage solutions for your data.

Back to top